Edit and manage content in digital book 
UX Design / Product Design
Internship 09.2019 - 11.2019
Fo

r the past two months, I have been interning as a UX designer at
Censio

, a matchmaking app that helps people find love using its proprietary AI technology. 
Censio is a unique online platform and app that empowers singles that are serious about dating.
Censio curates highly compatible matches based on your behaviors, personality, activities, and 'real life' past dating experiences.
During this internship, I researched and created mockups, user flows, wireframes and prototypes. I worked closely with the CTO of Censio to implement new features of the app. Specifically, I was working on its "

book interface

", which each user has a digital book that tells the valuable information about oneself, such as interests, values, beliefs, love language and anecdotes. Users can look at each other's book to see if it's a match.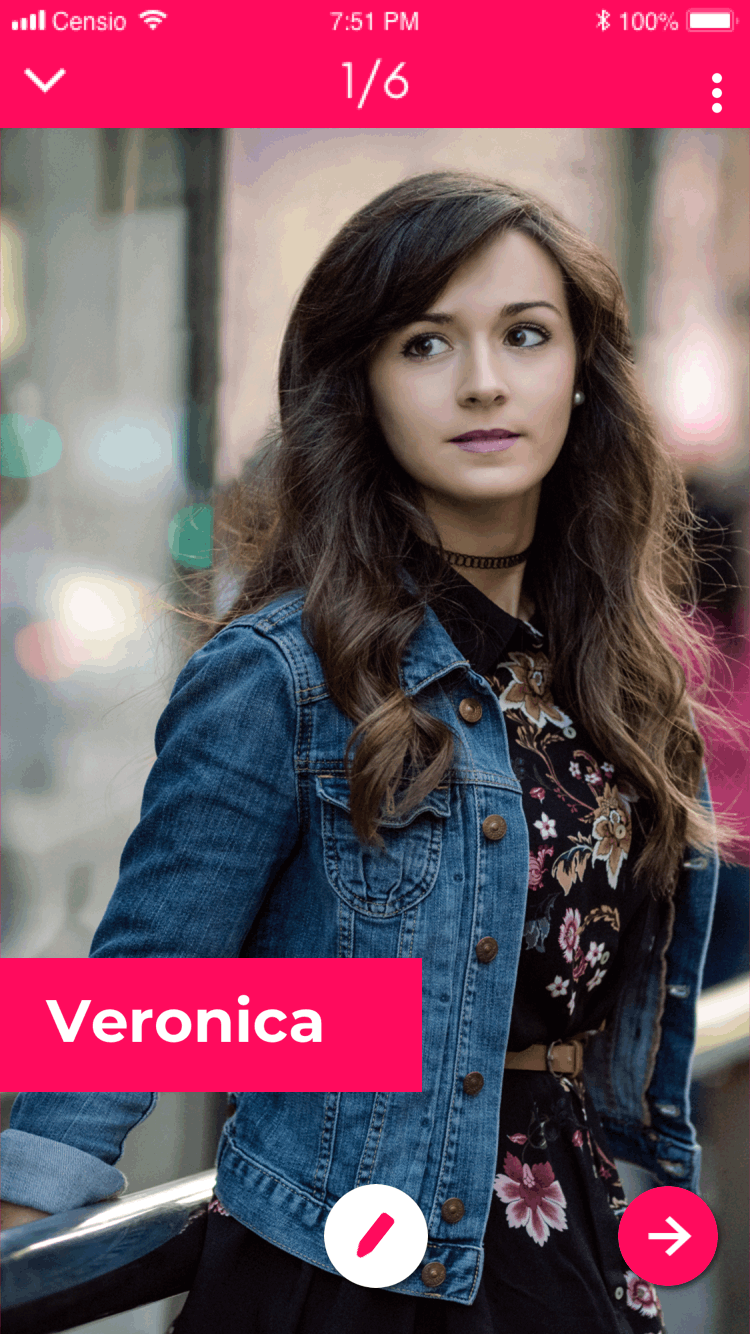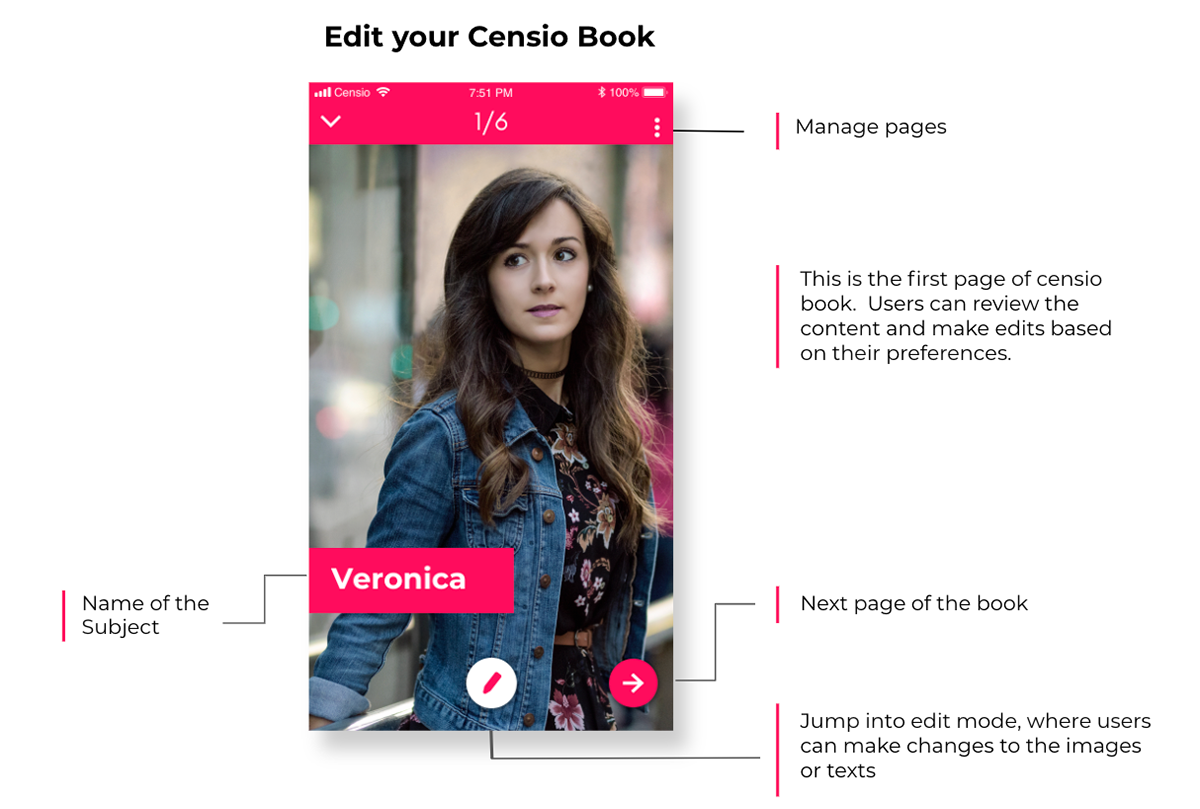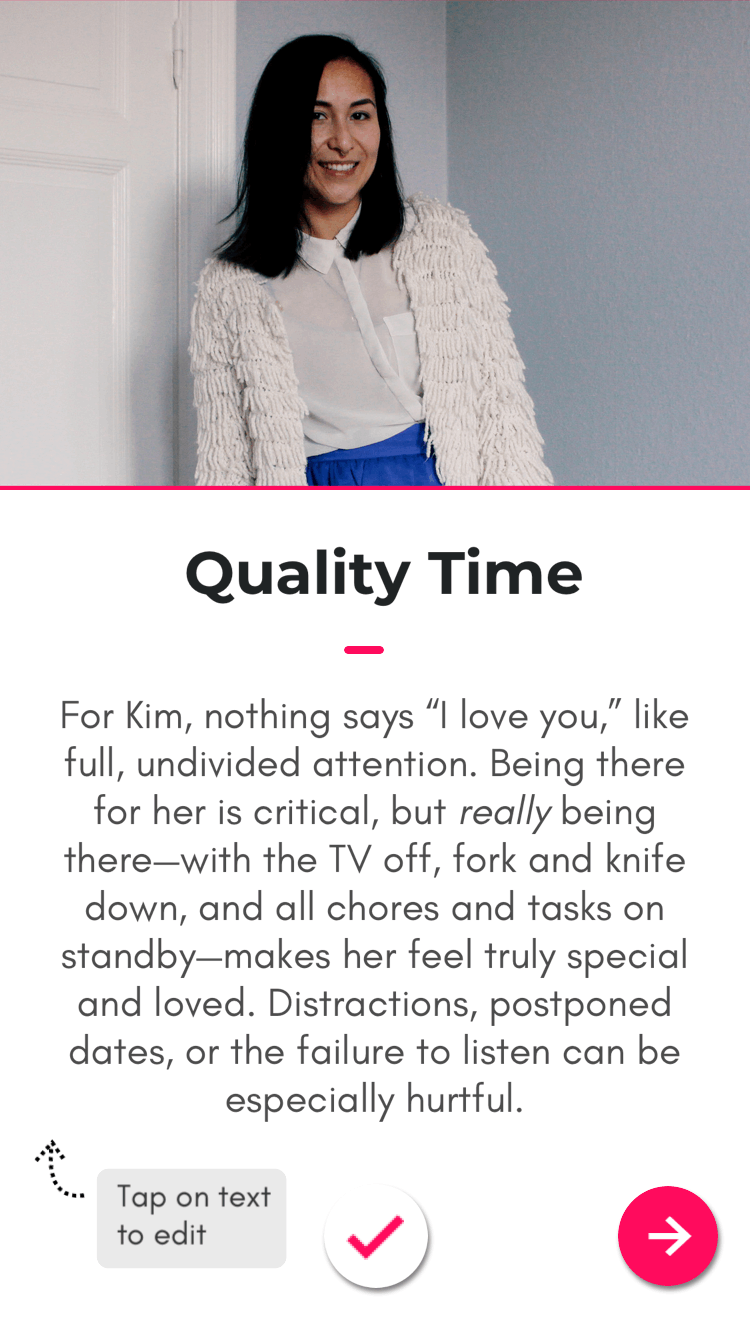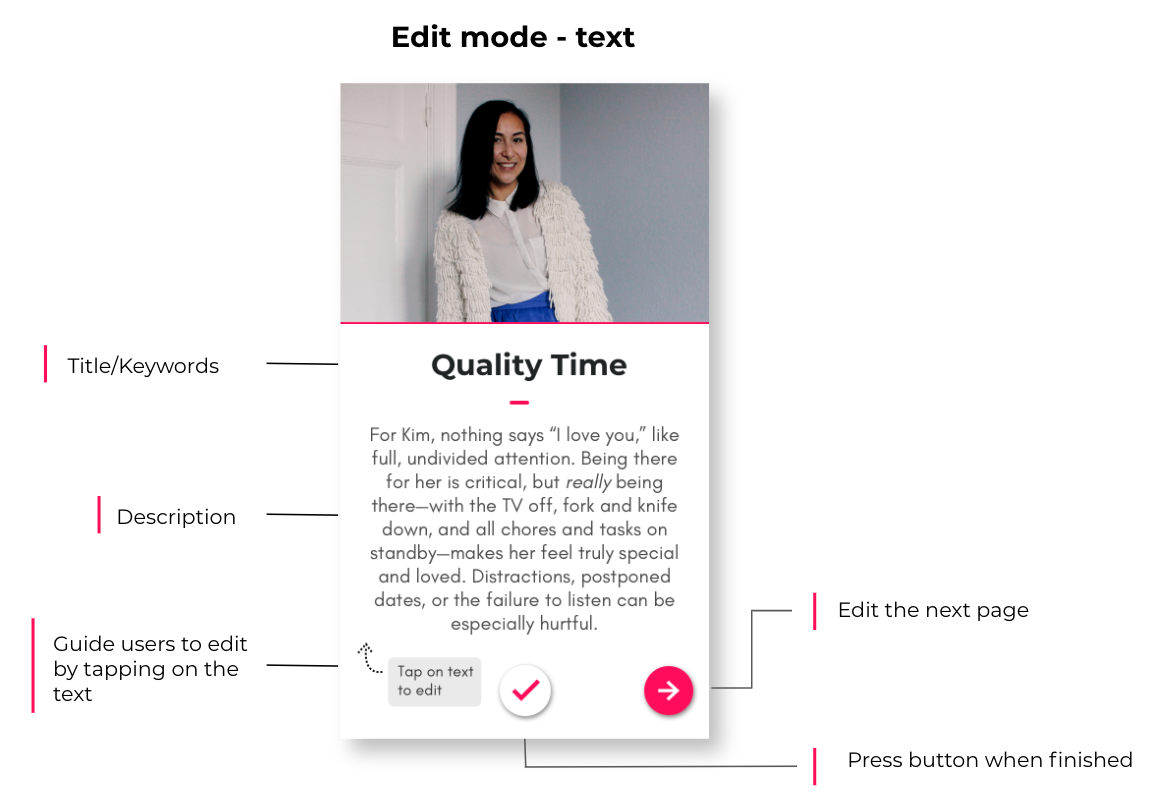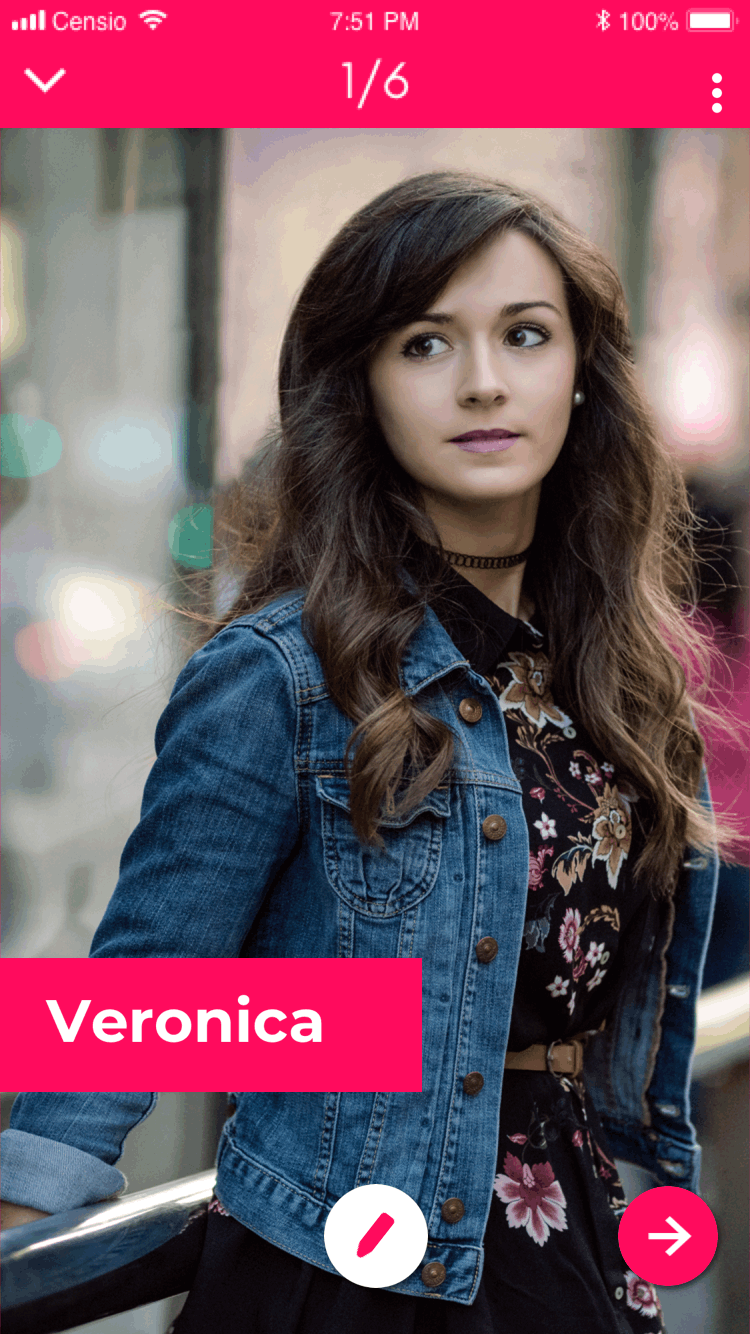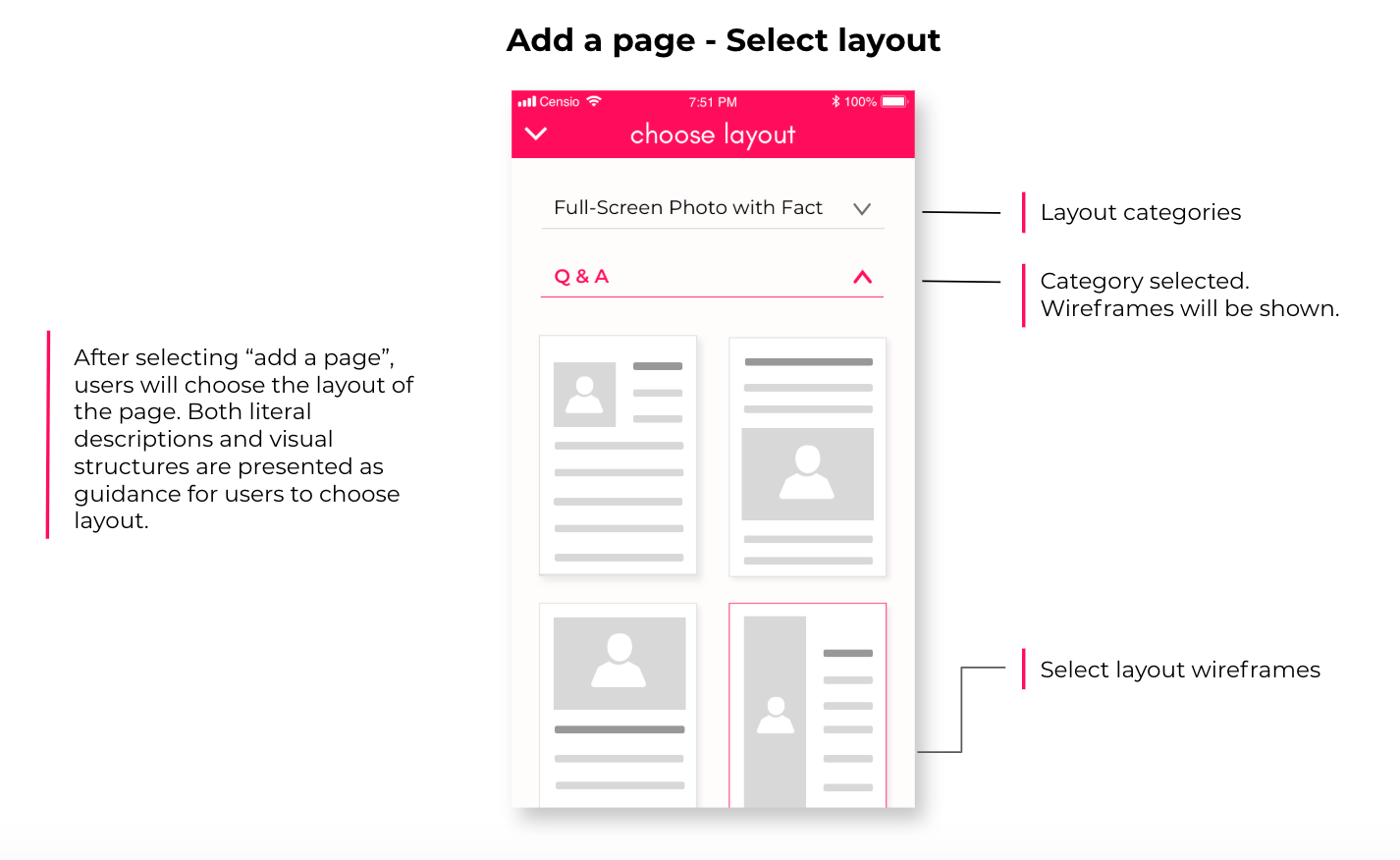 The feature that I was asked to design was 

edit the book interface. 
Our goal is to

develop the editing tools for users to manage content in their digital book.

The editing process should not only be easy and straightforward, but also encouraging for users to fill in more information about themselves.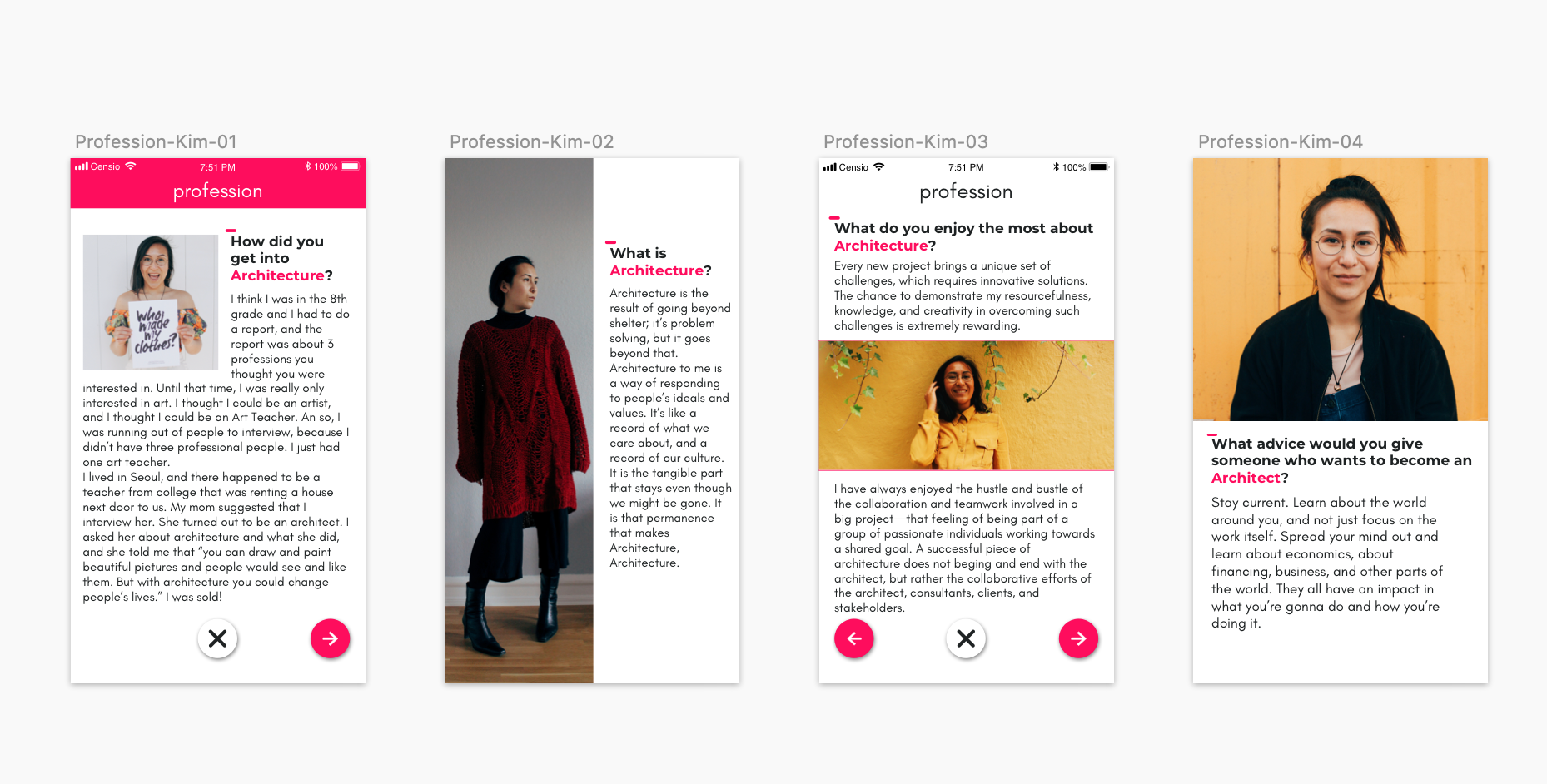 First, I researched about Censio's brand concept. I found that it has a focus on providing users a reliable matchmaking experience. 
Mission:
To help people find love and learn about themselves by providing them with premium dating experiences.
Vision:
To be the premier AI and Machine Learning Dating App designed to enhance your dating experience and intelligently provide you with compatible matches. 

​​​​​​​​​​​​​​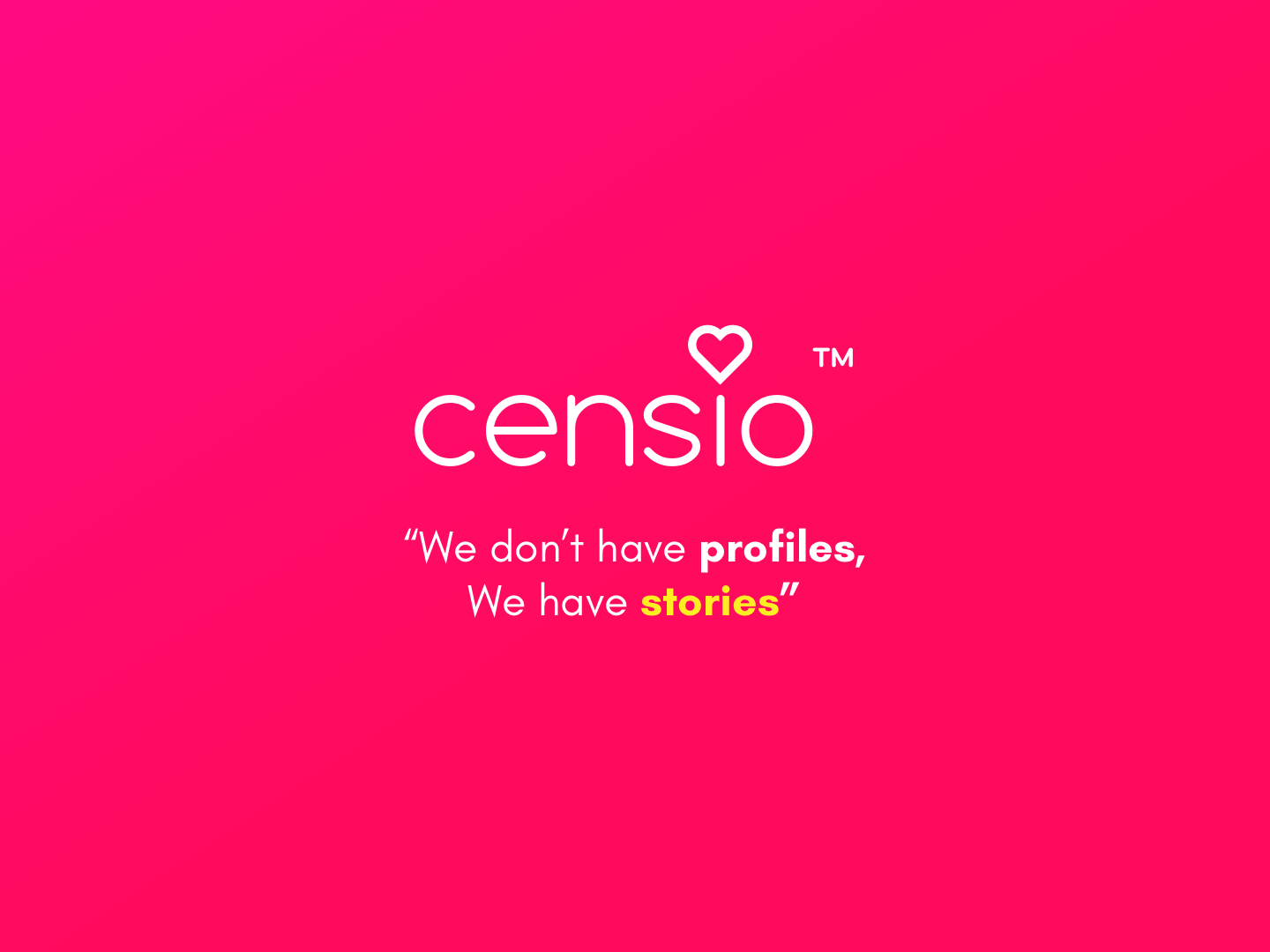 In contrast to other dating apps, Censio mirrors the matchmakers' process. It guides users from the start of their search process, all the way through to finding, meeting, and matching with that special someone. It prompts users to 

tell the unique story of each single individual through the book interface. 
Censio's target audience are

men and women aged 27- 45

interested in dating and

finding serious relationships

. 
The audience will consist of serious daters that don't enjoy the standard tedium that goes along with trying to find "the one (s)." The audience is looking for the matchmaking experience without the high cost and more efficiency.  
3.
User Research (edit the book interface)
The CTO of Censio, Wellington, has mentioned to me that the most requested feature from users is

"editing the book interface"

. 
Currently, users can only see their digital books, which were generated based on the questions they have answered and images that they have uploaded before, but they couldn't go back and and make changes on their books. Before designing this new feature, I started with a quick user research in hoping to learn some
users' pain points in using the current book interface
and
what kind of editing tools
they would like to be implemented. 
With these goals in mind, I conducted quick
interviews
with 5 users. To know what editing features they are specifically looking for, I asked them to go through their digital books page by page and speak out any concerns or things that they want to add to the current design. I found that they are most frustrated about some of the photos being cropped because of the limitation of the layout. Other concerns they have generally lies in managing texts and photos.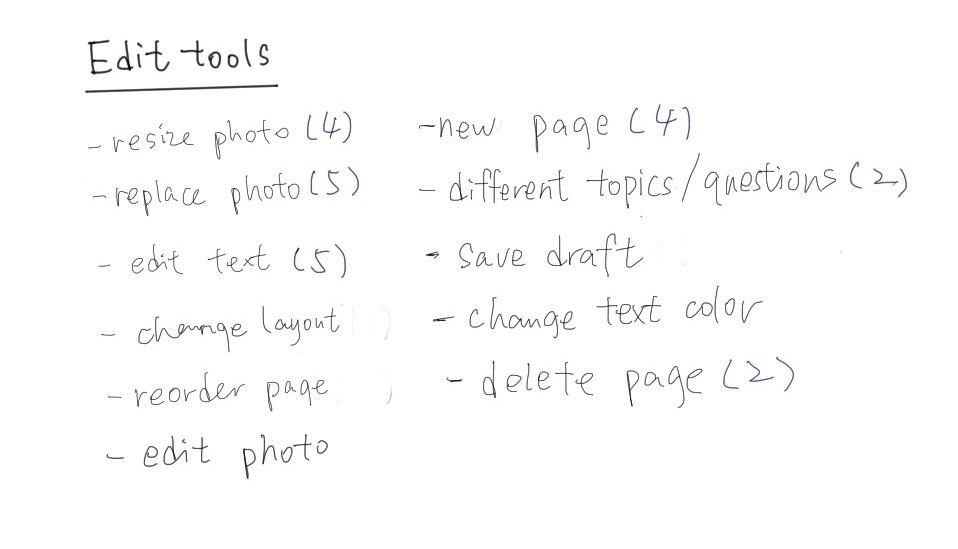 Based on the research results from the users, I organized features and ideas they suggested into an information structure. The features are: add/delete page, change page order, add/delete/edit image, add/delete/edit text. 
Feature prioritization:
We selected these features based on users' requests and the difficulty of implementation. There are two features that we hesitated on designing: change content layout and save draft. Because if implemented, these options are less feasible and functional. (Let users select random layouts might impact the visual style of the books negatively and creating drafts complicates the user flows).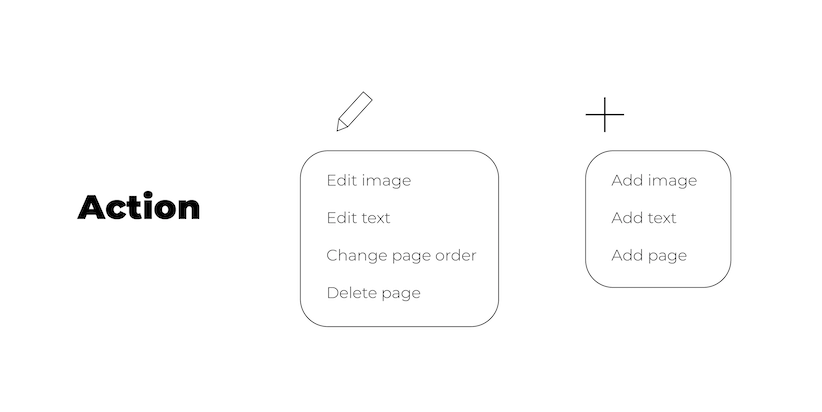 digital books page by page and speak out any concerns or things that they want to add to the current design. I found that they are most frustrated about some of the photos being cropped because of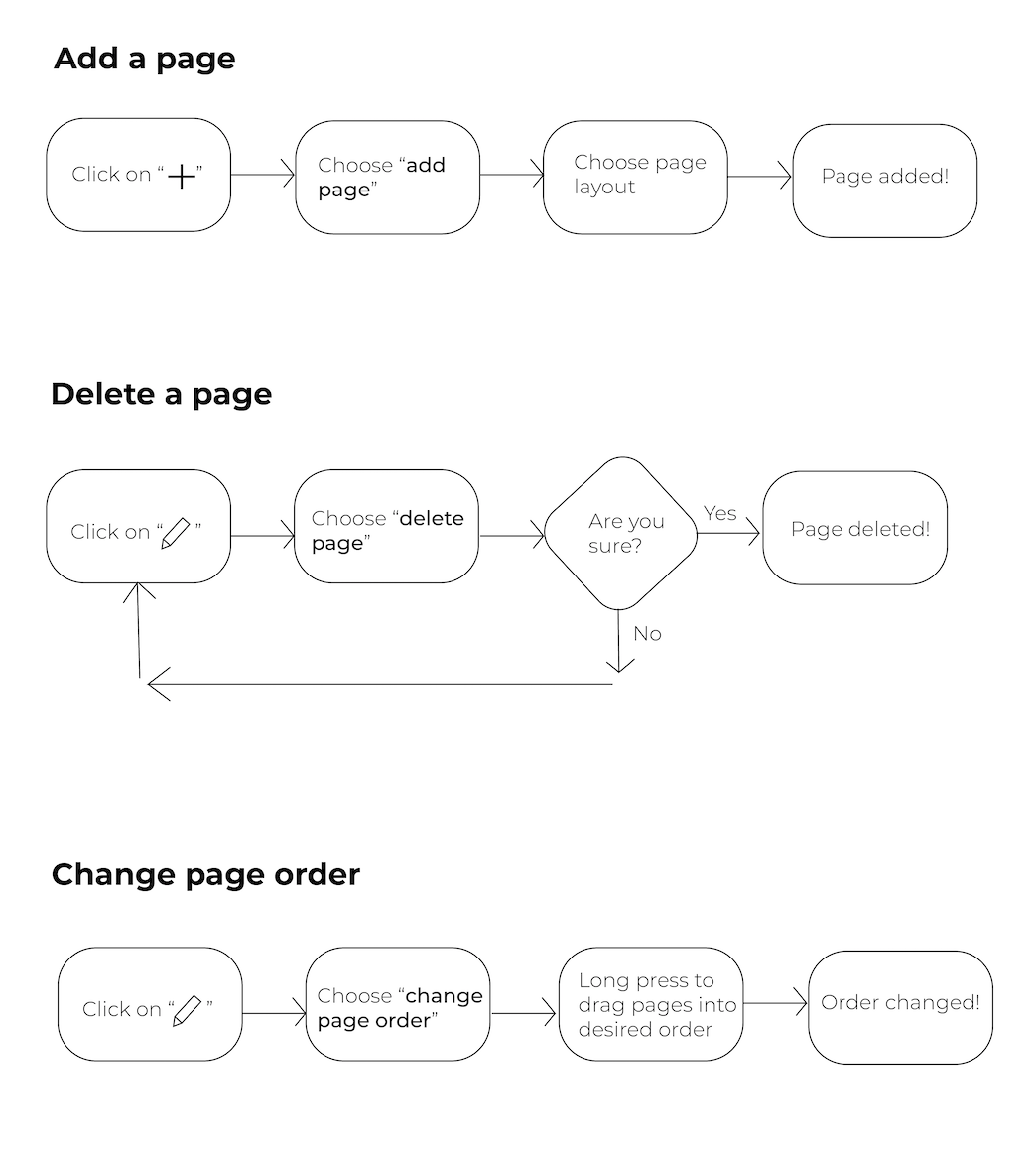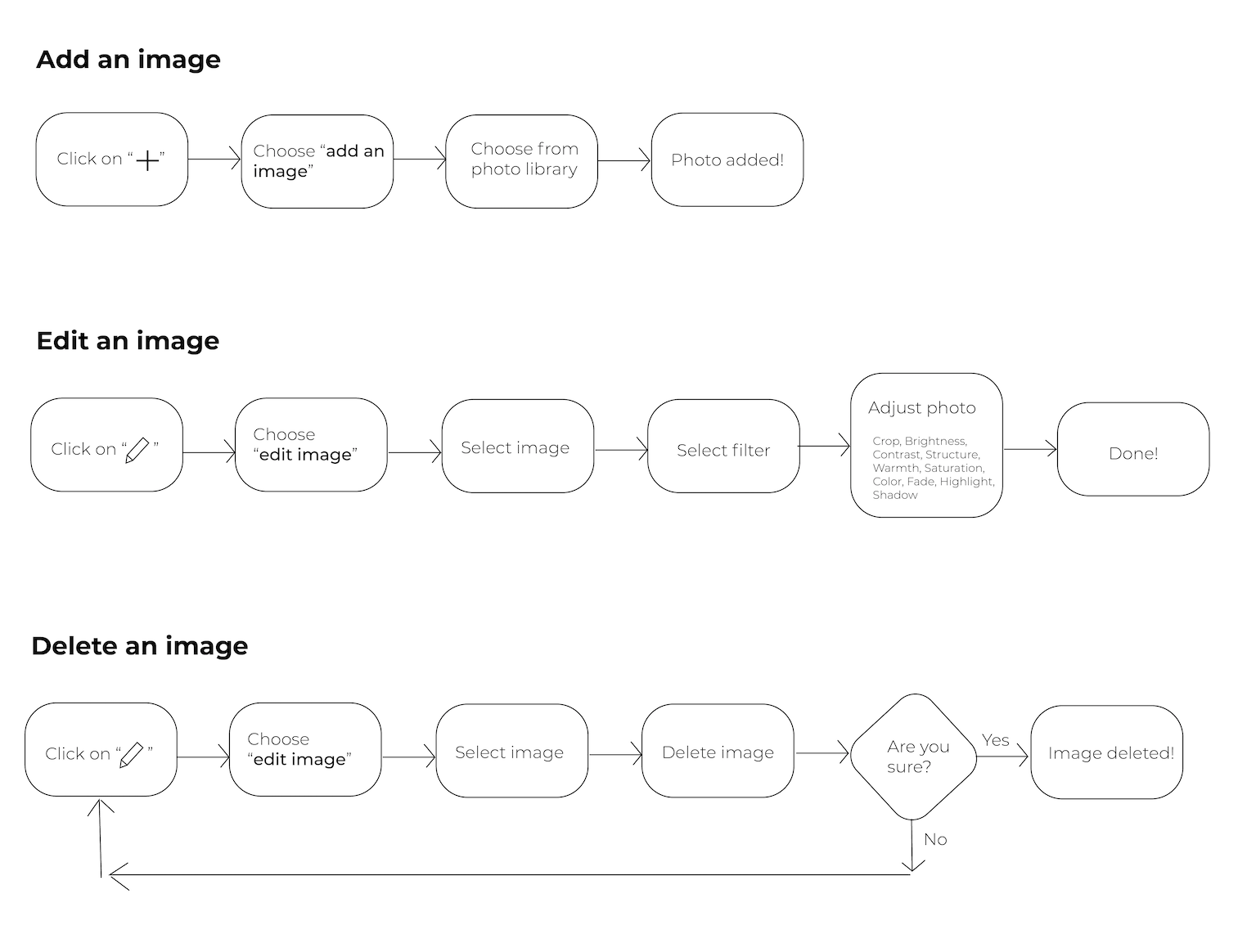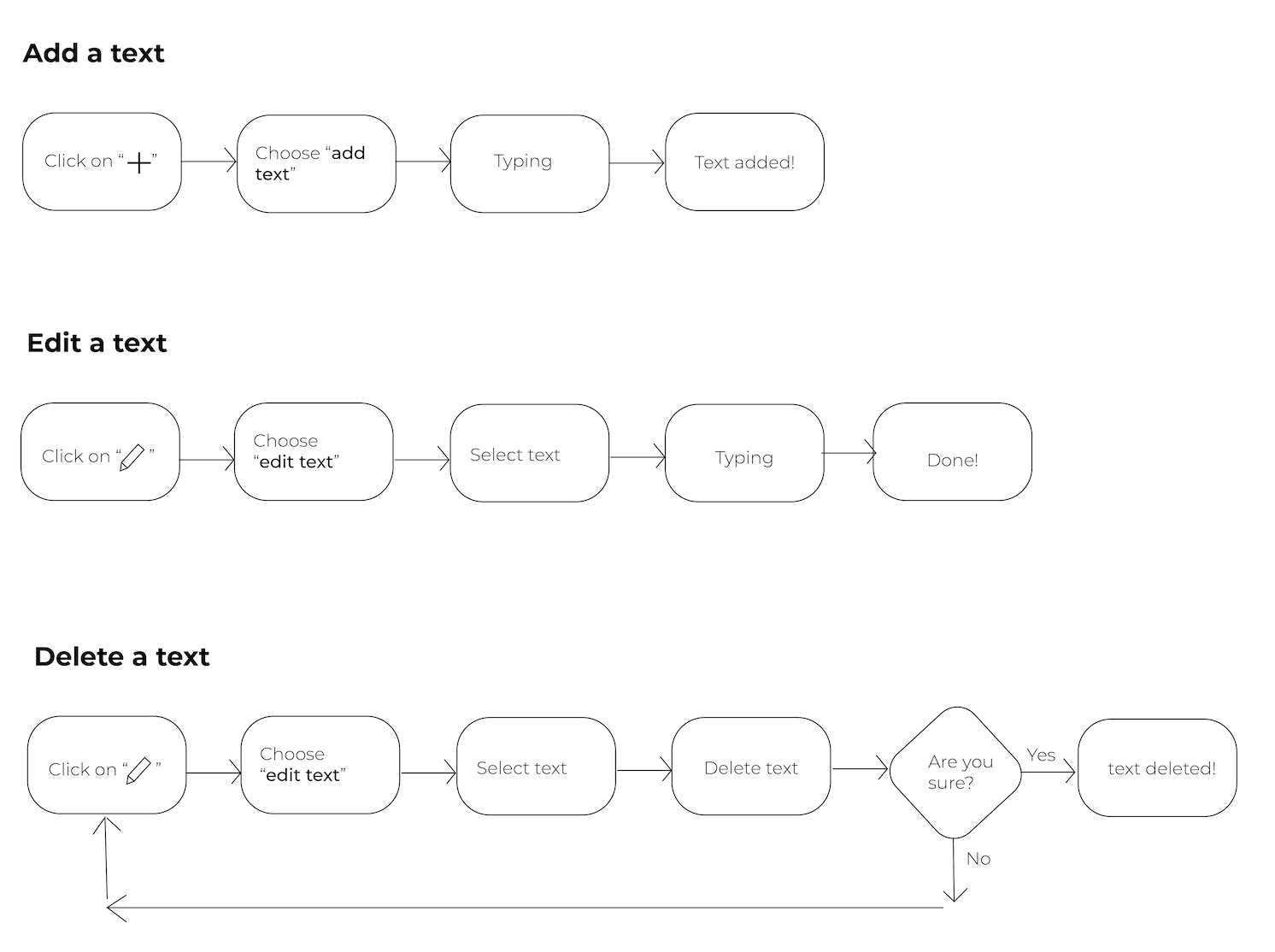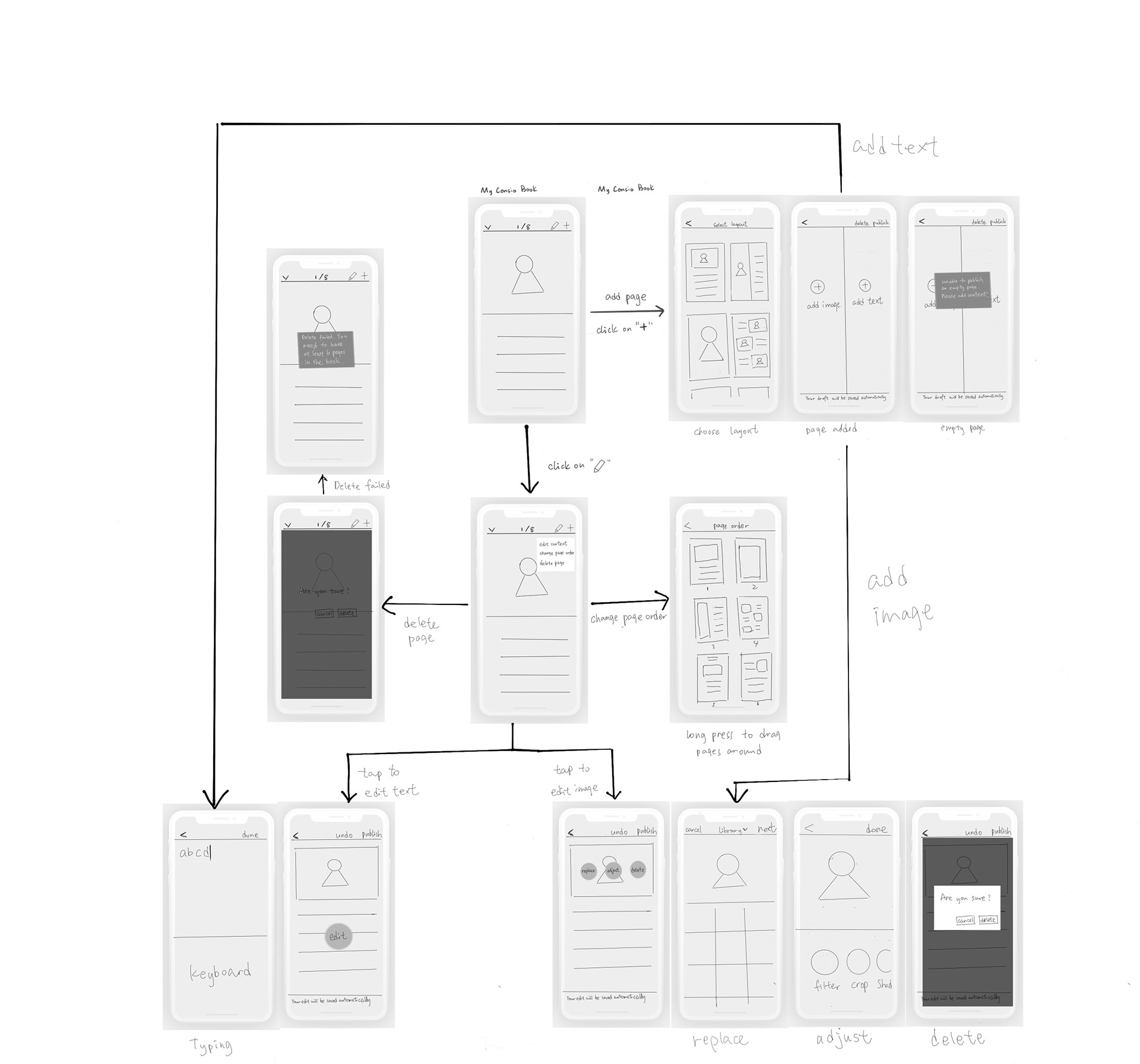 I asked 5 users 
to test out the above paper prototypes. Two of them are remote and three are in-person. For all of them, I gave them a list of tasks to do, such as add a page or replace an image.
I 
hope to learn if they can quickly complete the given task through navigating the interface.
I have some questions in mind before the testing: How do users think of the editing process? Do they struggle to complete the task? Do they follow the user flow that I planned? Is the icon misleading? What suggestions do they have?
Having these questions in mind, I witnessed the three users testing out the prototypes and gave directions to the remote ones. I concluded my observations and feedbacks into the key findings listed below:
Some users find the process of "adding a page" confusing. Because there are no transitions between
" + " button on home page and "select the layout" page. People are doubted if they had correctly added a page. So, to improve the design, there needs to be words indicated that users are adding a page before they can select layout.
Another part that is confusing to users is the options in the edit (pen) button on the top right corner on the home page. The options are edit content, change page order and delete page. Users struggle to find the one that they are looking for because these options do not necessarily fit into the same category. I will need to rethink about the information structure. 
3.  Buttons on hovering on top of the image/ text
One user thinks that editing options buttons (ex. adjust, replace image) hovering on top of the image looks unorganized visually. It can be better designed with an action sheet instead. 
Based on the findings from UX testings, I revised a couple of the features and went through the iteration process for selecting layout. I tested different ways for selecting layouts. From just listing out all the wireframes to choosing categories, I fount that it works the best with the dropdown menu having both category names and page wireframes.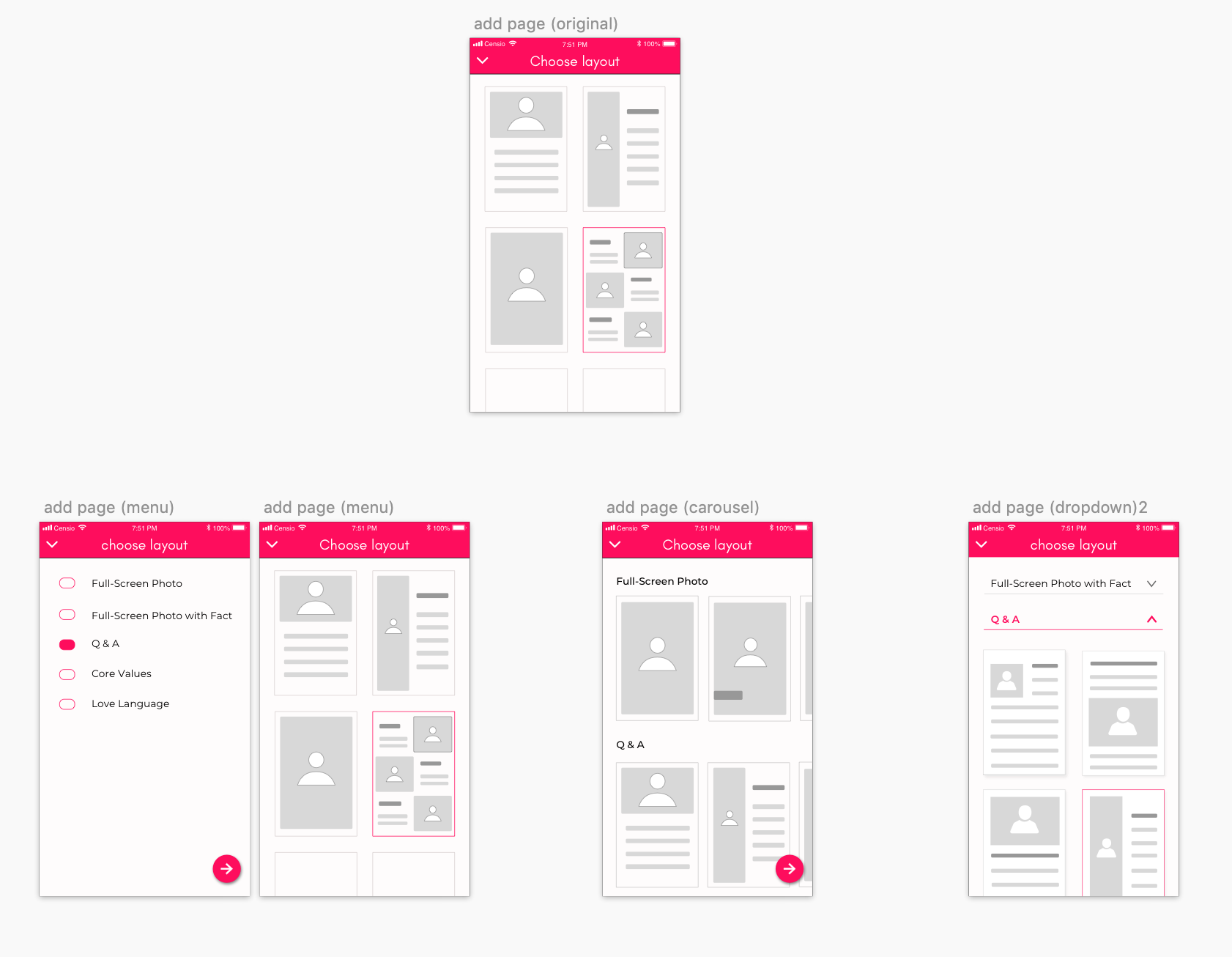 Home Page                                     Manage Page
Edit mode (text)                                                Edit text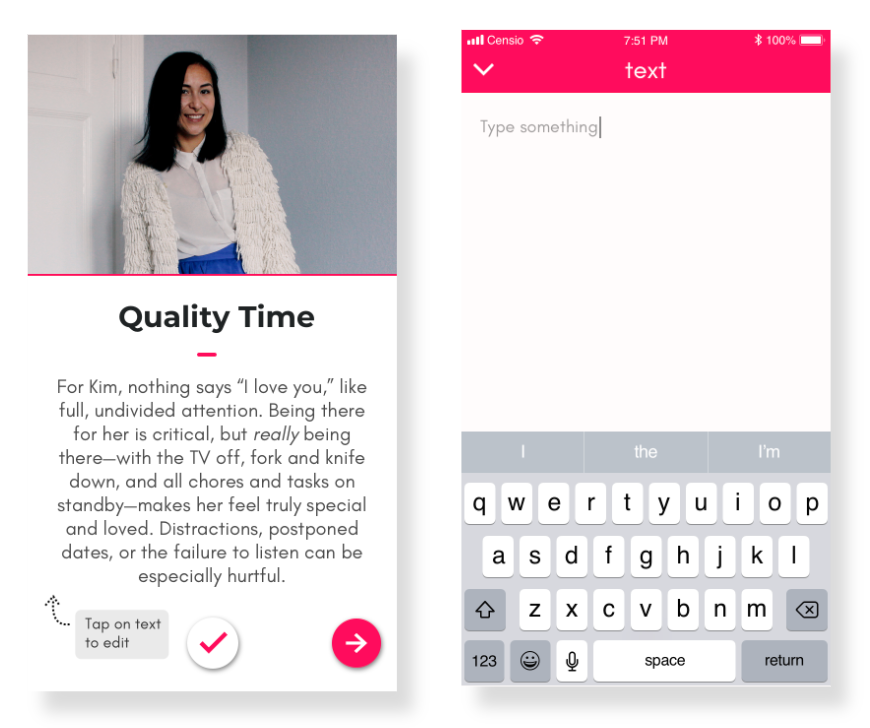 Choose layout                                 Choose layout 
Add content                                                 Add content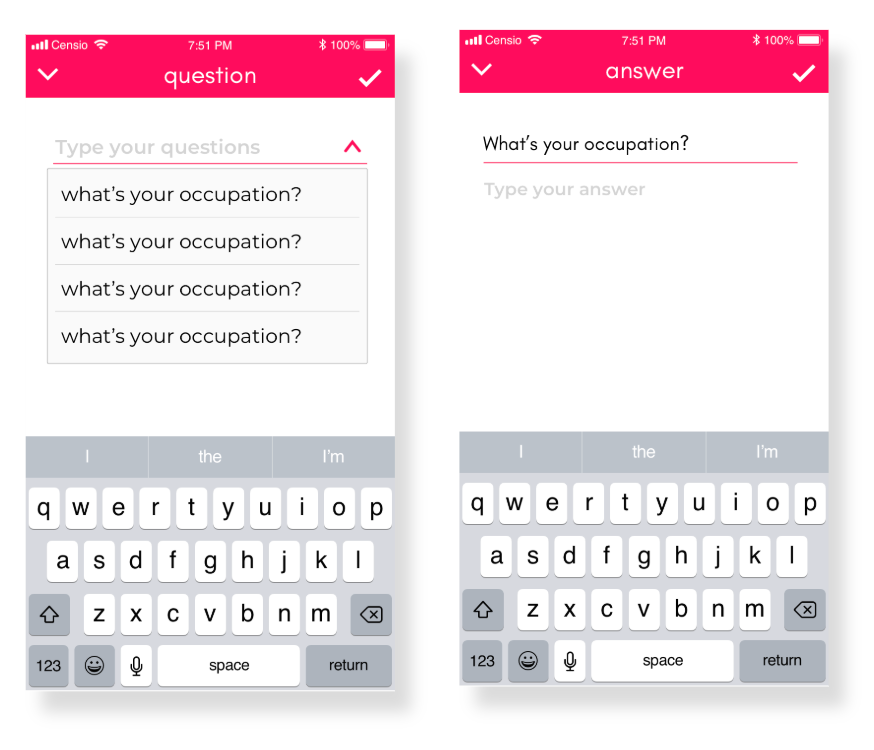 Edit mode (image)                           Edit photo 
Delete                                                           Delete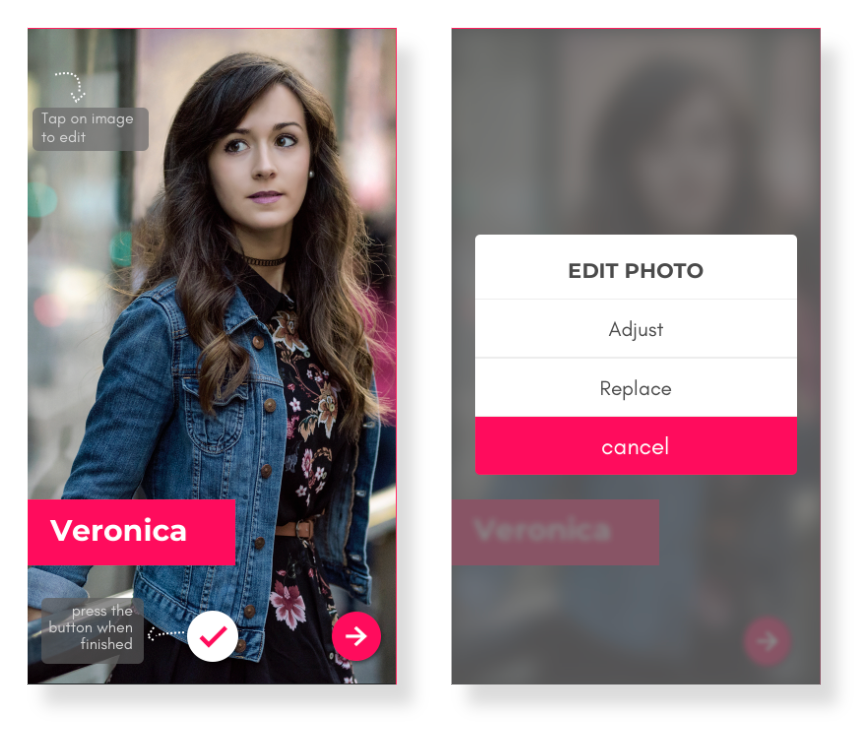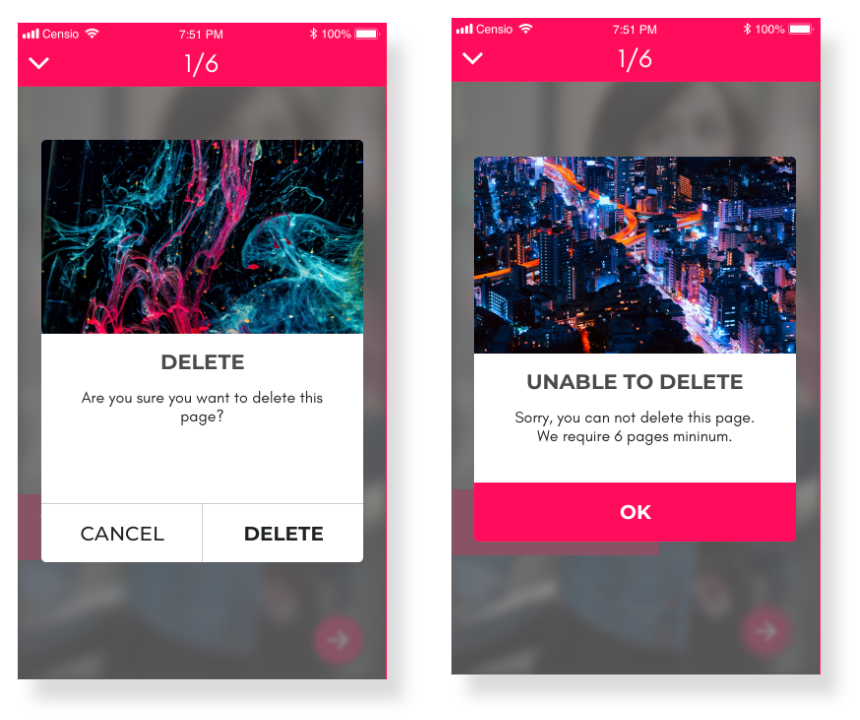 Replace image                               Adjust image                                  Adjust image 
                                                    Reorder page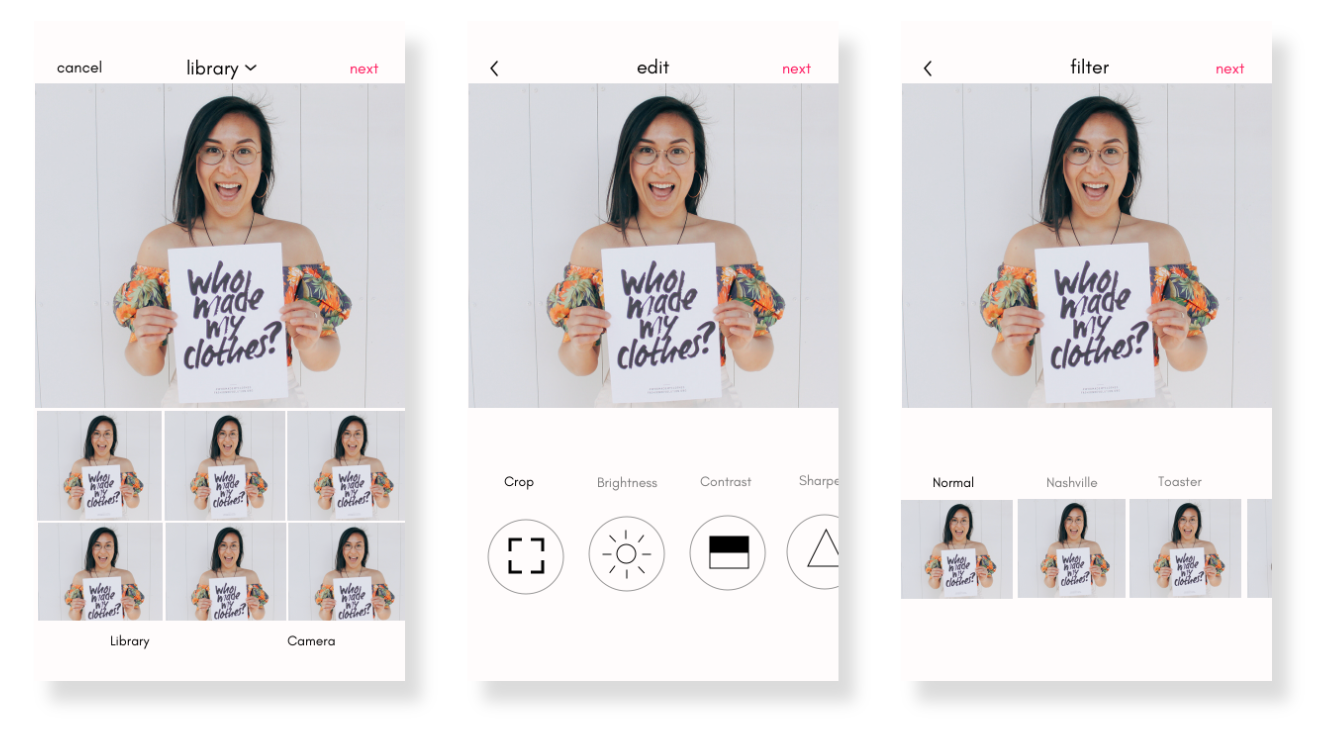 Overall, I enjoyed working on this project during the internship. The editing feature will soon be implemented by the engineering team. The UX designing process was mostly smooth with the help of my supervisor Wellington. The biggest challenge for me was to figure out the information structure because there are many different editing options. But I'm glad that everything worked out at the end. This project also helped me become more deft in the general UX design process. 
 I learned a lot about UX testing and iterative design, which I wasn't very confident before. Most importantly, this professional experience helped me to learn how balance out the ideas and opinions from users and stakeholders. I'm more used to organize the various feedbacks from everyone and implement them into my design. 
I look forward to the next step and designing more features for Censio.