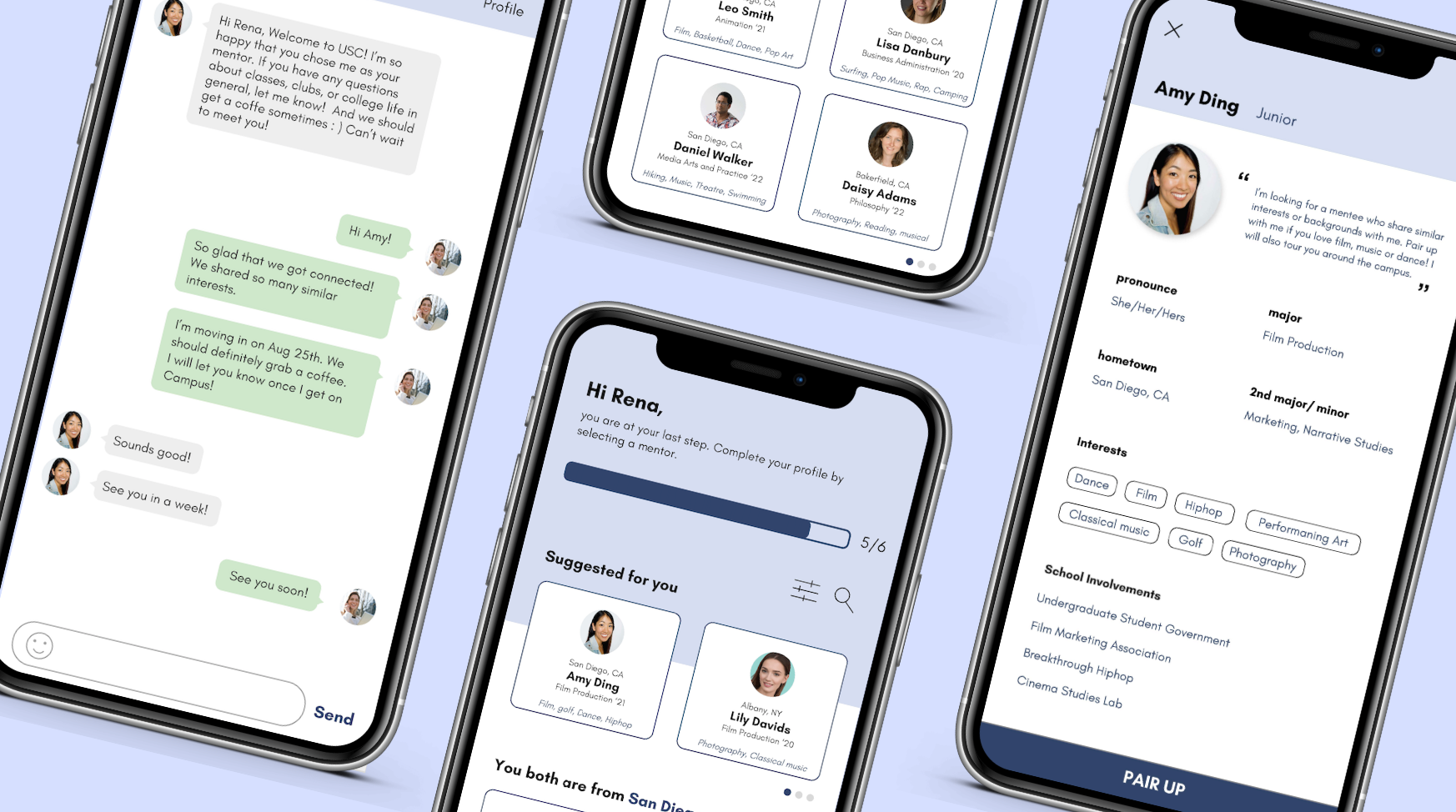 A platform for experienced students and new students to connect
Your school wants to strengthen the community by encouraging experienced students to connect with new students and help them adjust to campus life. Design an experience that allows mentors and mentees to discover each other. Consider the needs of both mentors and mentees, including how someone may become a mentor and how to connect mentors to mentees.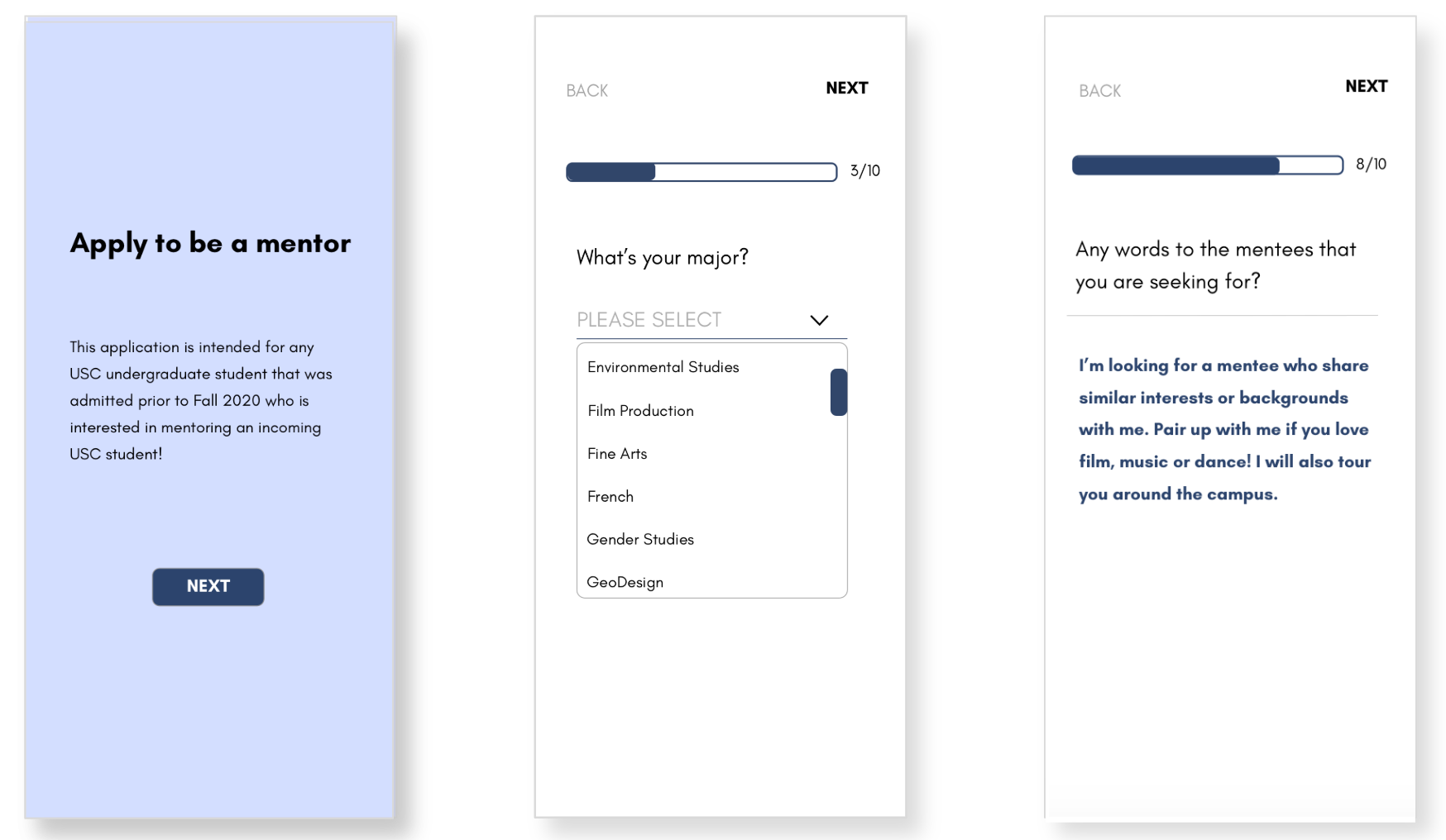 Check your status and mange your profile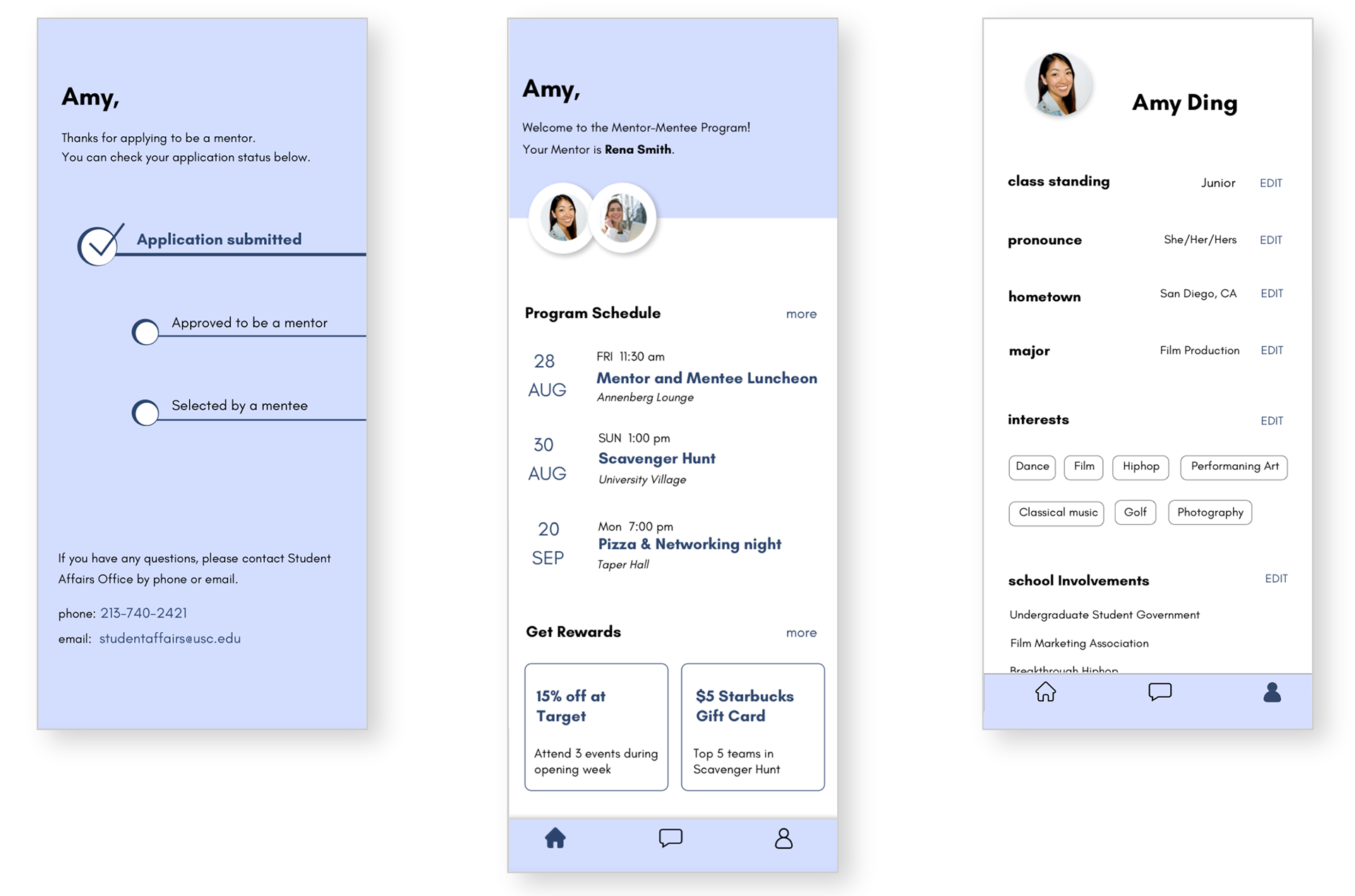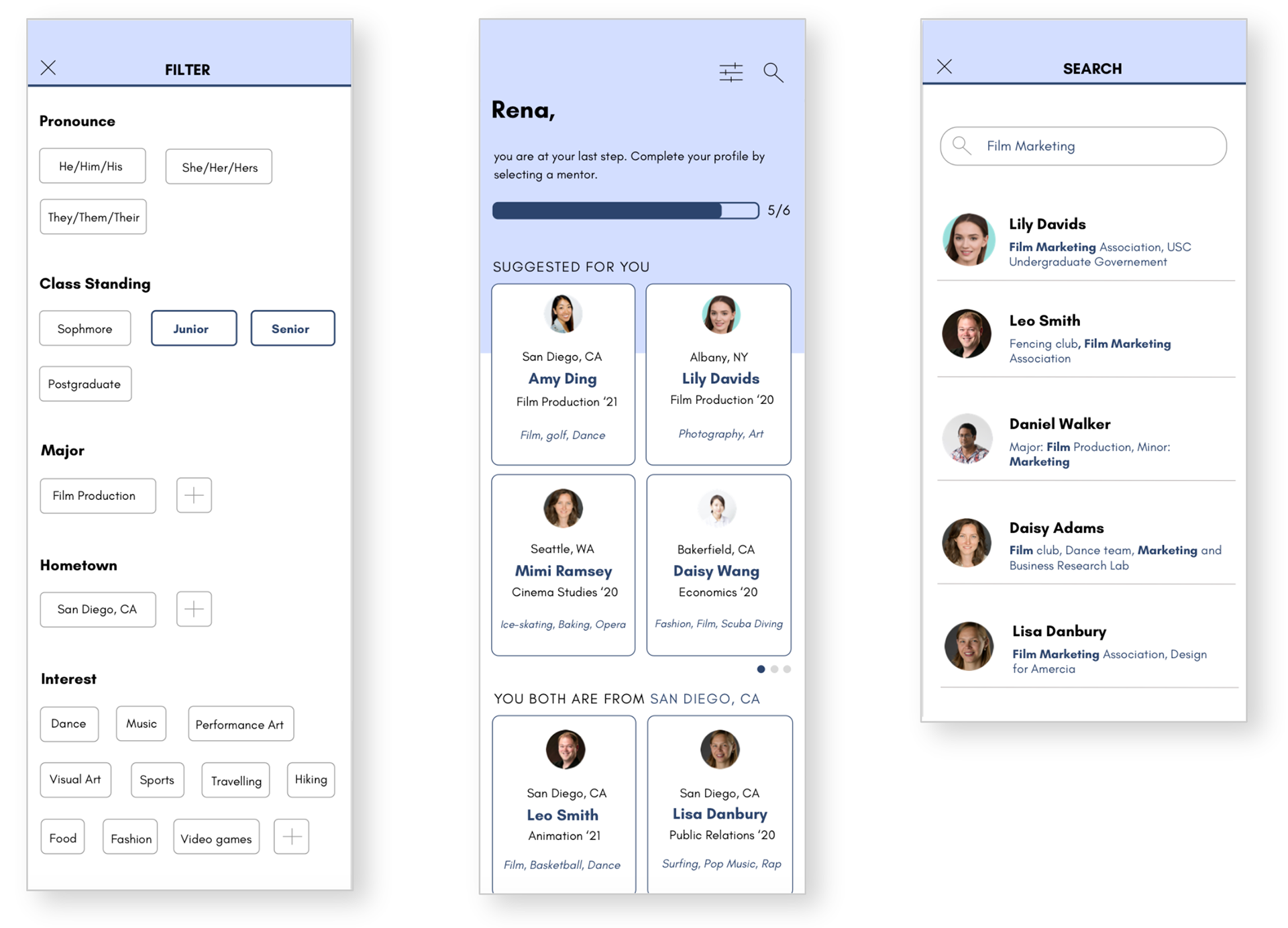 Pair up and chat with your mentor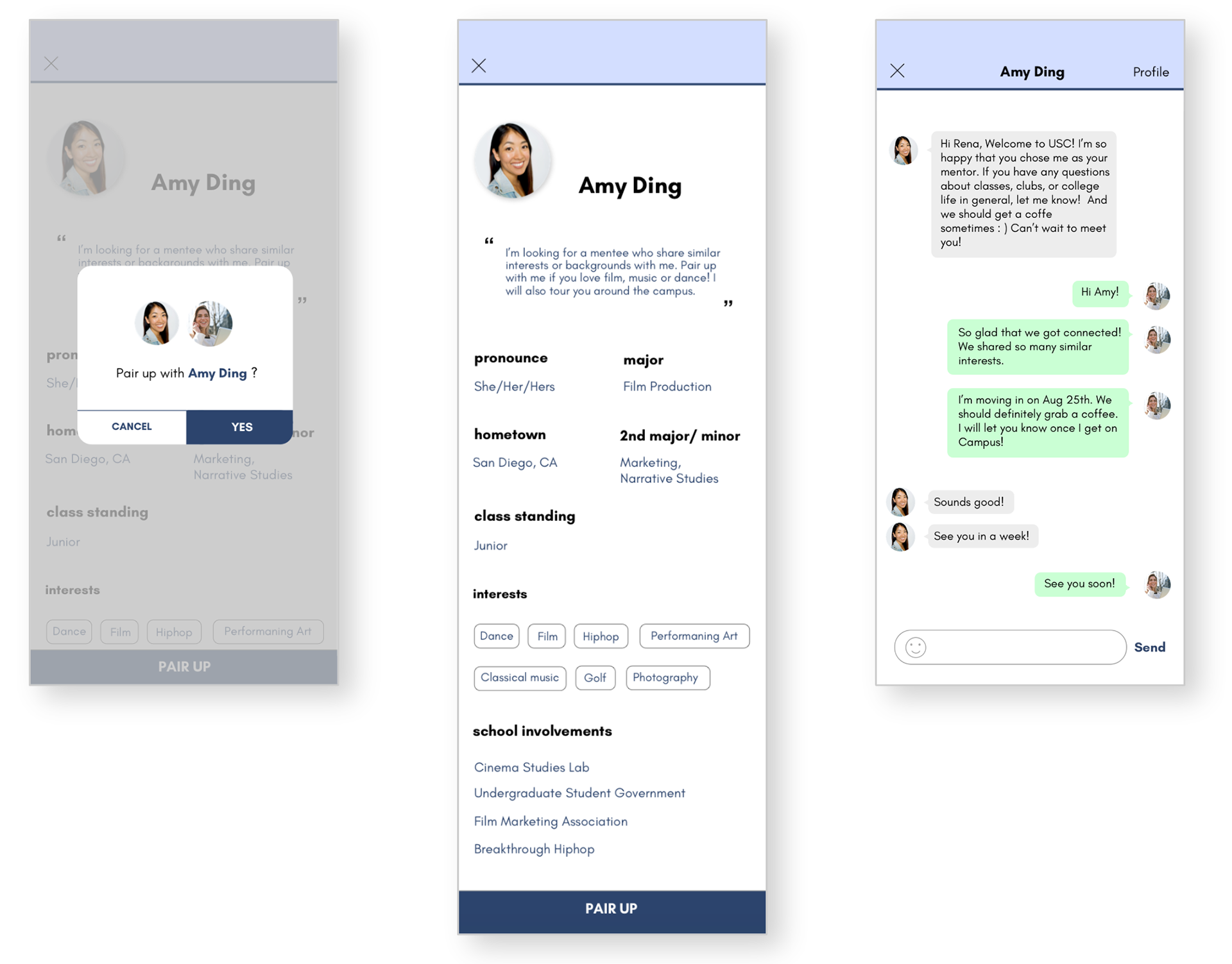 Currently, after students fill out an application to be a mentor,

program organizers pair mentors up with incoming students

. The application simply asks their majors and class standings of the students without requesting more information about their interests and involvements in school.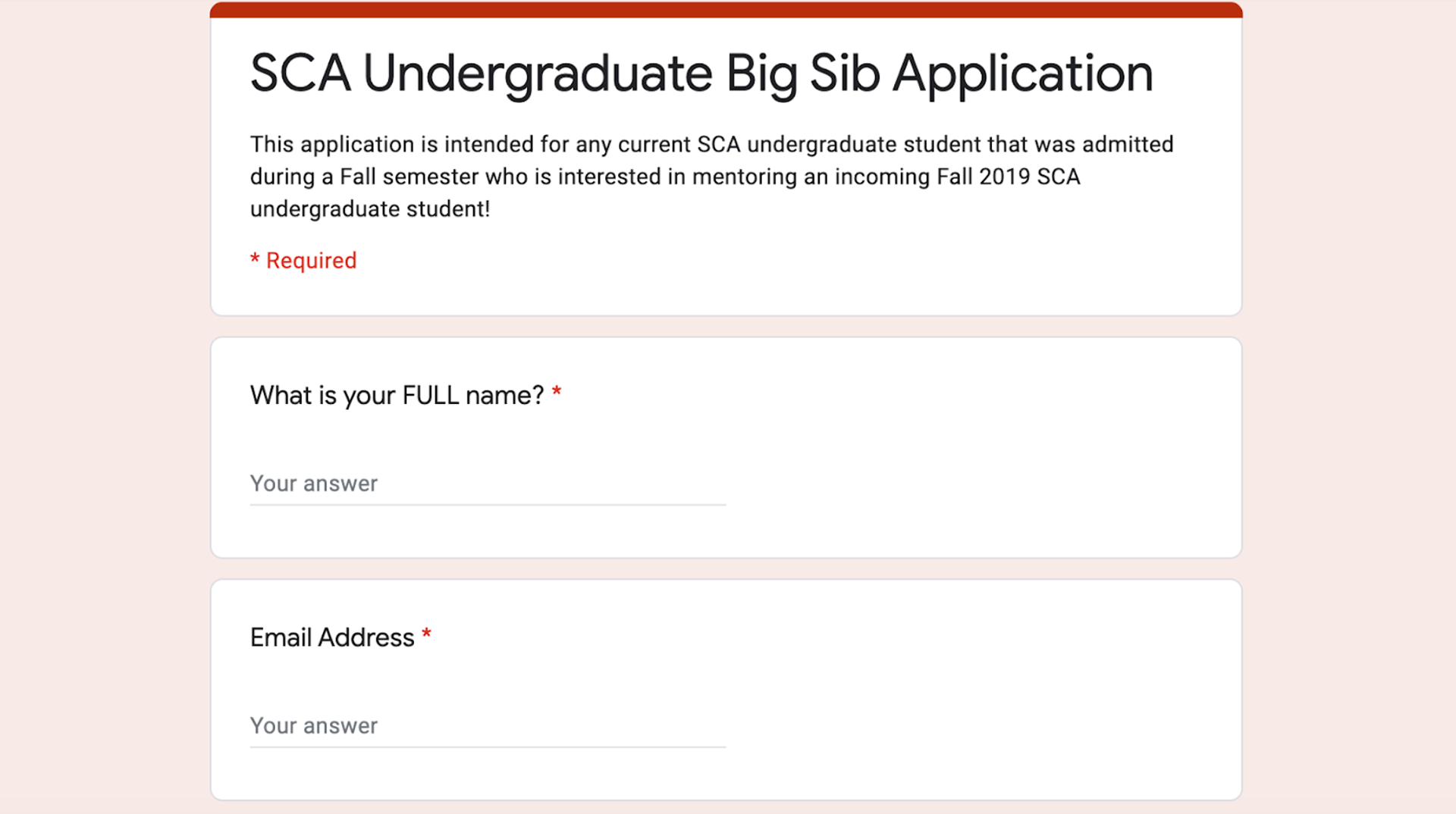 INTERVIEW QUESTIONS

​​​​​​​

To learn more about the current system, I decided to interview program organizers, mentors and mentees about their previous experiences with the program. I first designed a question list, hoping to get a thorough understanding of the program through the interview process. 
- What's the goal of this program?
- What are some requirements for being a mentor? How do you select them?
- What's the biggest challenge now? What do you hope to improve on?
- How's your experience as a mentor?
- How's your relationship with your mentee? 
- Why do you want to be a mentor?
- What do you wish to change?
- How's your experience as a mentee?
- How's your relationship with your mentor?
- What did you hope to get out of this experience?
- What do you wish to change?
Based on the interview results, I found that students have very diverse opinions towards the current program. But I learned that

shared interest

is very important in a successful mentor-mentee relationship. Student affairs team pairs students up in the most efficient way, however, this kind of connection could be improved as students can discover mentors and mentees by themselves.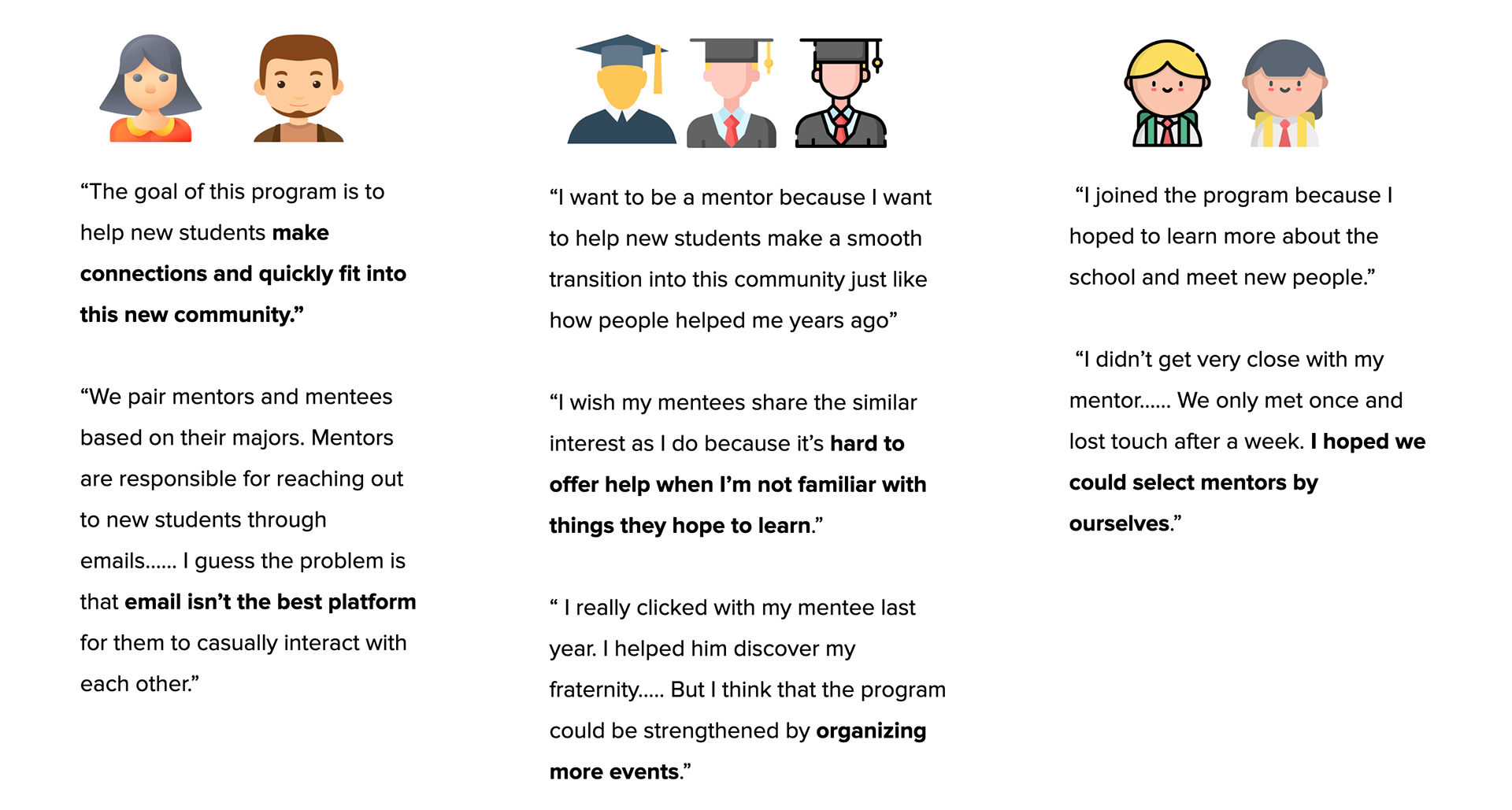 I analyzed two networking apps:

LinkedIn

and

Shapr

.

LinkedIn displays the profile of those shared similar experiences with the user. Users can scroll down the page to find people they are interested in connecting. Shapr uses a swipe system, which users read others' profiles one at a time. These two apps give me some inspiration for the information hierarchy before I start ideating.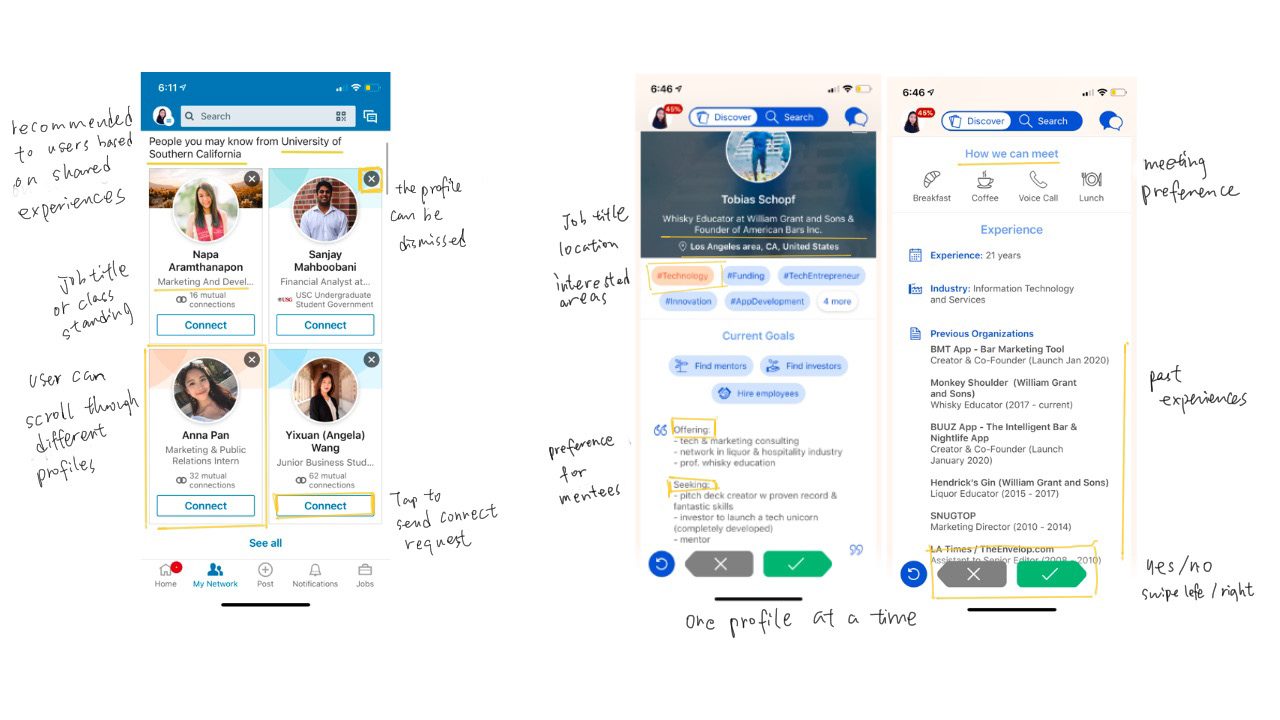 Because mentors and mentees have different needs, I ideated two separate systems. I also validated my design choices from the users, learning about their opinions about the features.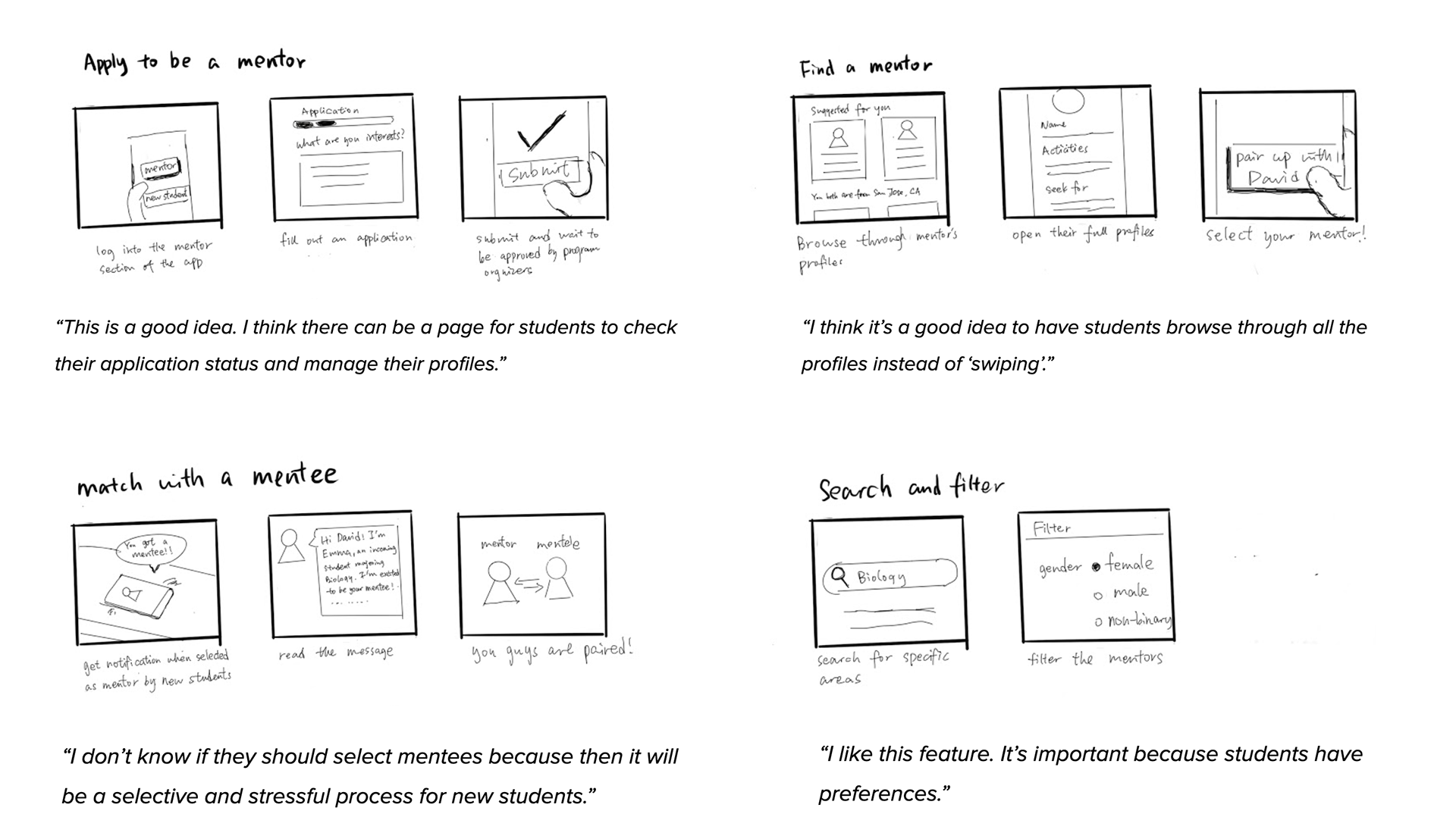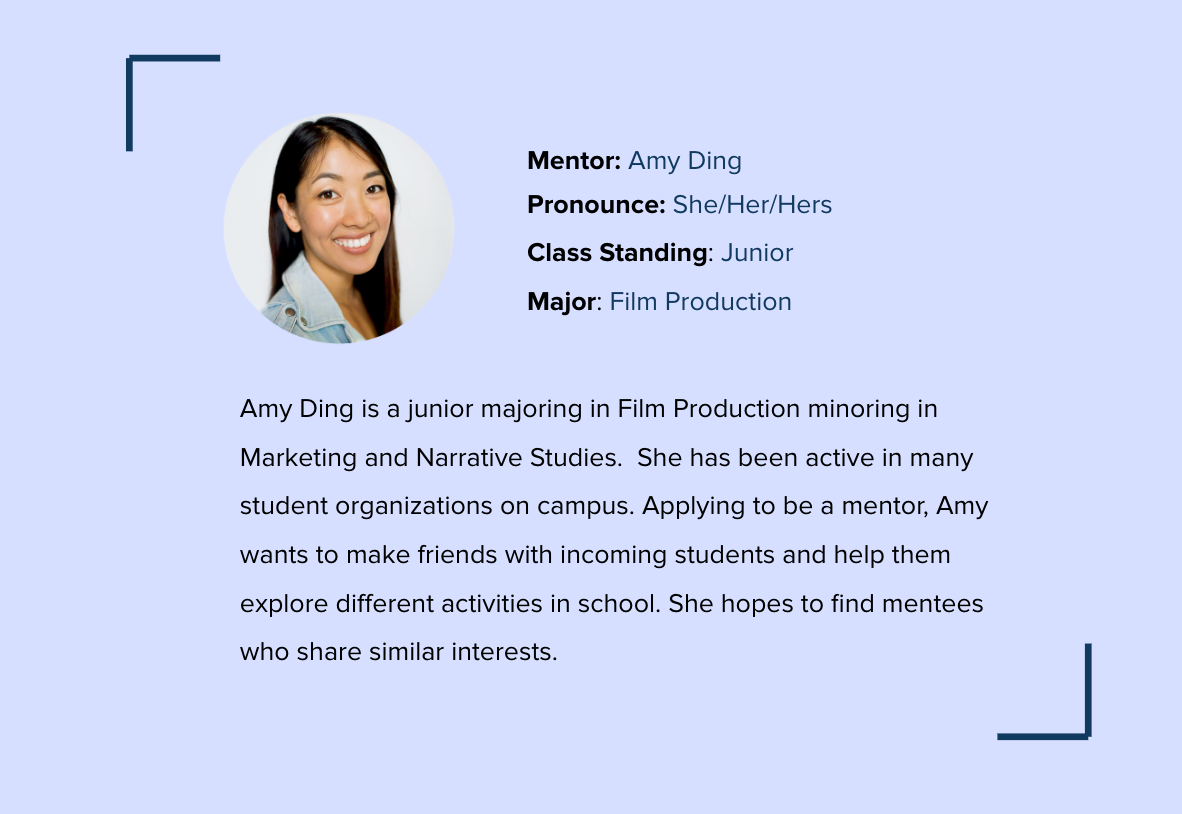 Then, I drew a user flow on how the two ends would interact with each other.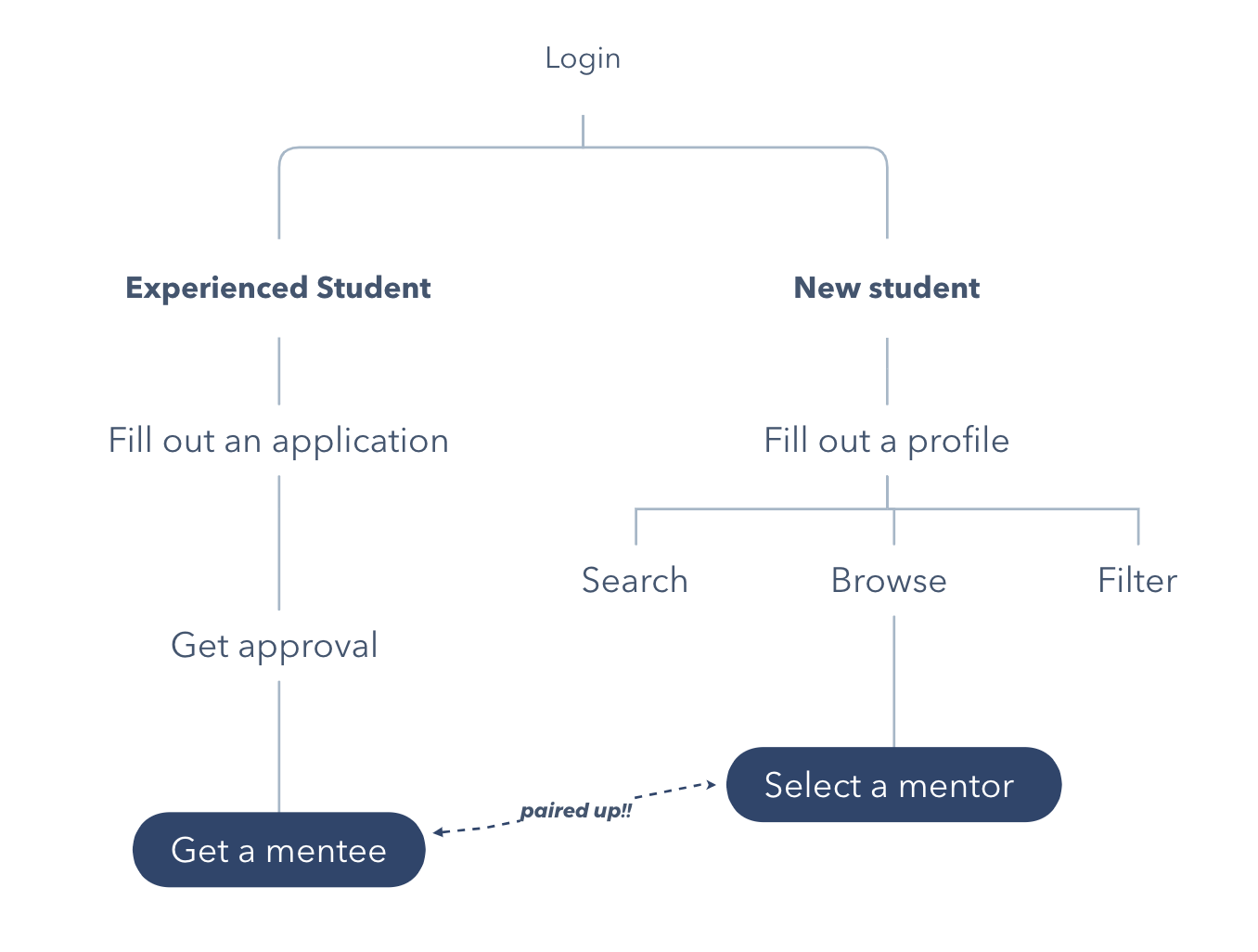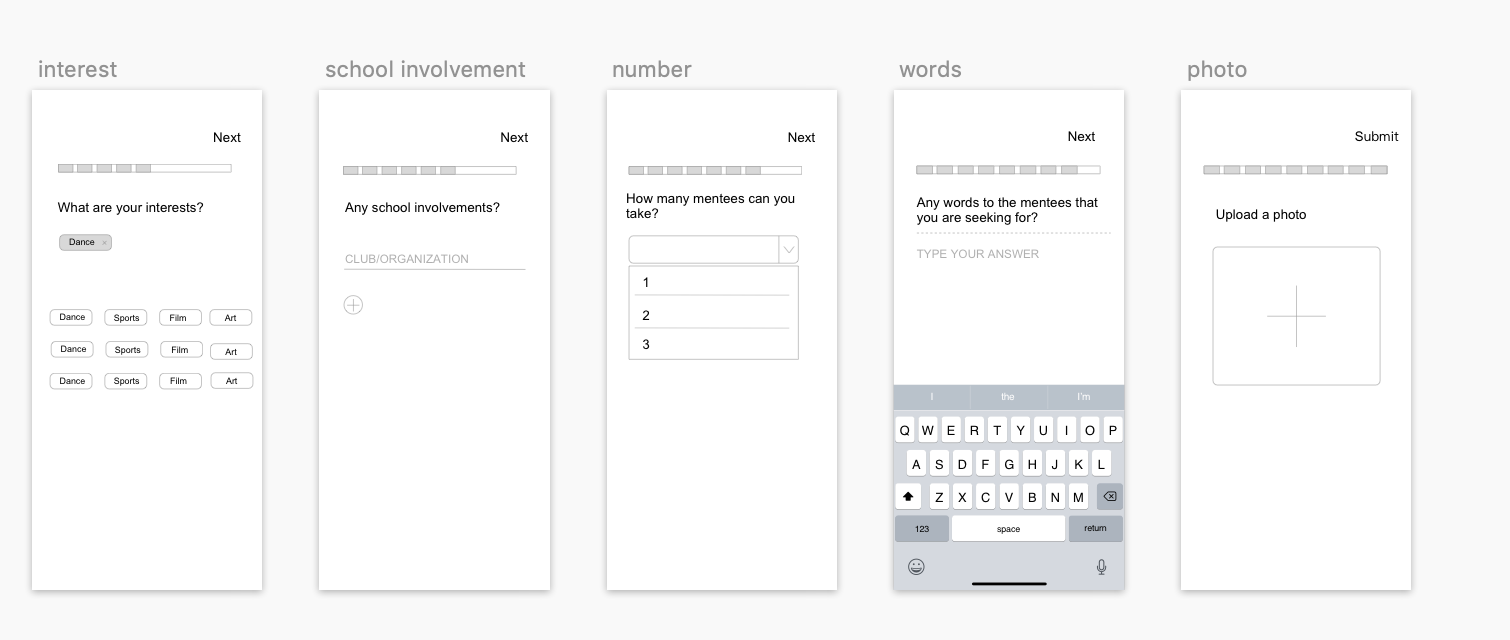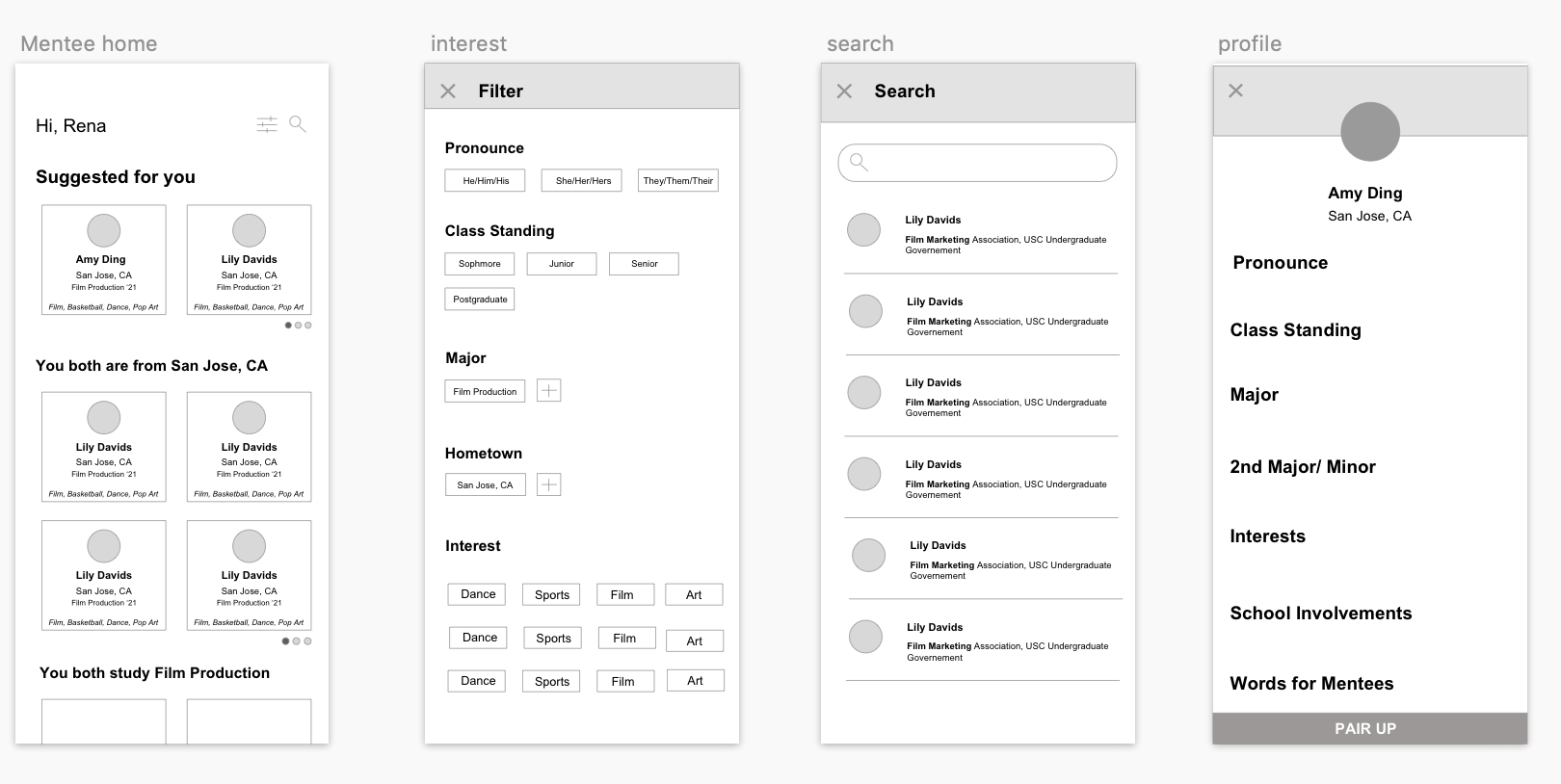 For UX testing, I gave a list of tasks for two users to complete. They thought that the process of filling a profile/an application is very straightforward. So does the flow of mentee finding a mentor. But there are still a couple of areas that I can work on:
One person mentioned a point that students should be able to request change their mentor/mentee if problems come up after they get paired up. Because without having students chat before pairing up, this is very likely to happen. So I took this suggestion and implemented "Request change"  into the profile page. 
​​​​​​​​​​​​​​

1. 

Interface for discovering a mentor
​​​​​​​
The UX testing process help me realize another problem. On the page for discovering a mentor, the information about the mentors is hard to read because the texts are small and clustered. So I revised this page to strengthen the information hierarchy. I enlarged mentors' profiles to make them more obvious and easy to read.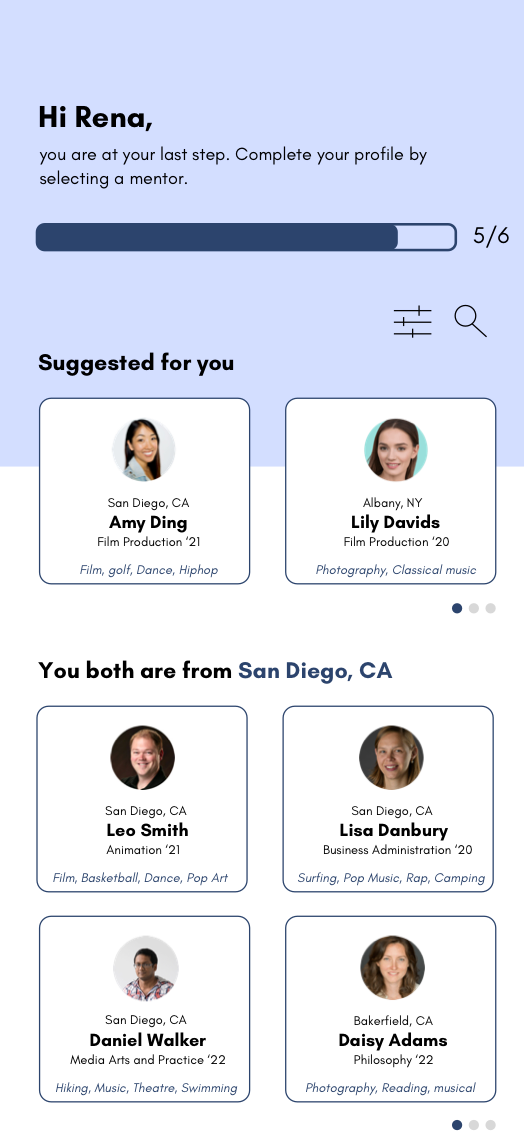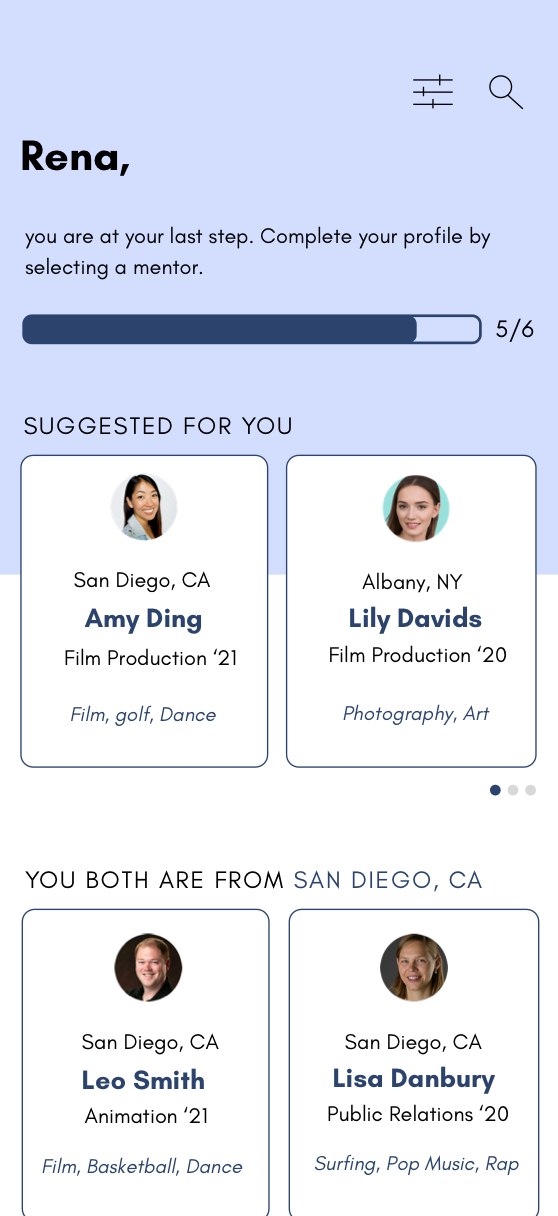 This is my first time participating in a Design Challenge. It is a good opportunity for me to practice designing experiences for two ends. I spent a lot of time thinking about the interactions between them, making sure that the two ends can both achieve their goals. If I continue working on this project, I hope to design a complete system for the Mentor-Mentee program. Besides helping the students to pair up, I want to create experiences for them to discover more activities and get rewards, so this program can be more effective in building connections between incoming and experienced students.