IML 309 MOBILE APP DESIGN                                                                     SPRING 2019 FINAL PROJECT                                                                      SKETCH, FIGMA, PRINCIPLE
We have probably all experienced the difficulties in beginning writing when working on college papers. There are times that we lack of inspirations and find hard to get settled with a solid idea. Browsing through loads of information online is overwhelming yet distracting. We have wasted a lot of time in procrastinating and getting anxious when deadline approaches.
Minpy is an educational app that help students start off their school projects and papers. Throw your thoughts into a mind map and the app will quickly analyze it and find potential research topics and credible sources for you.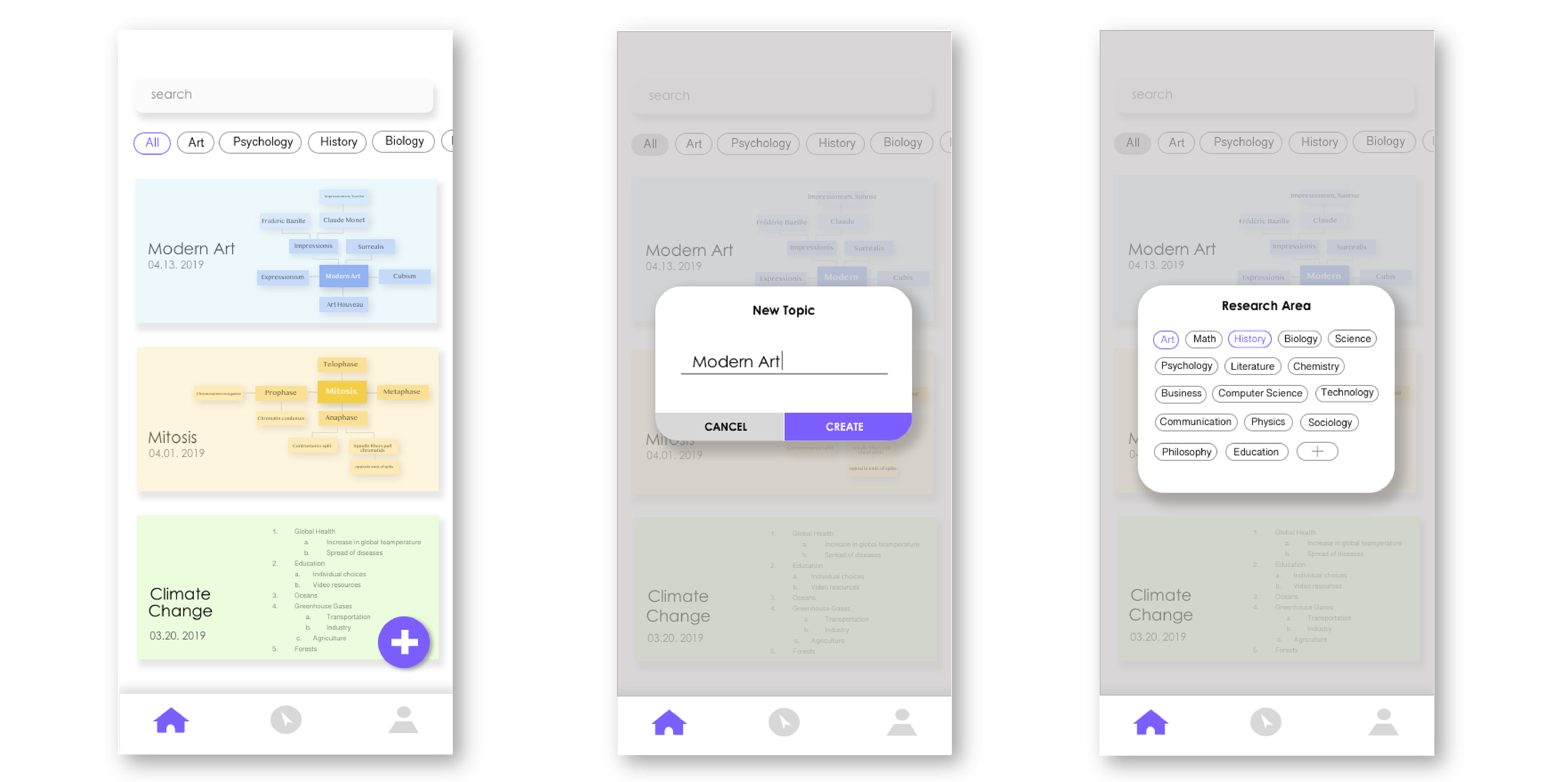 Select  suggested subtopics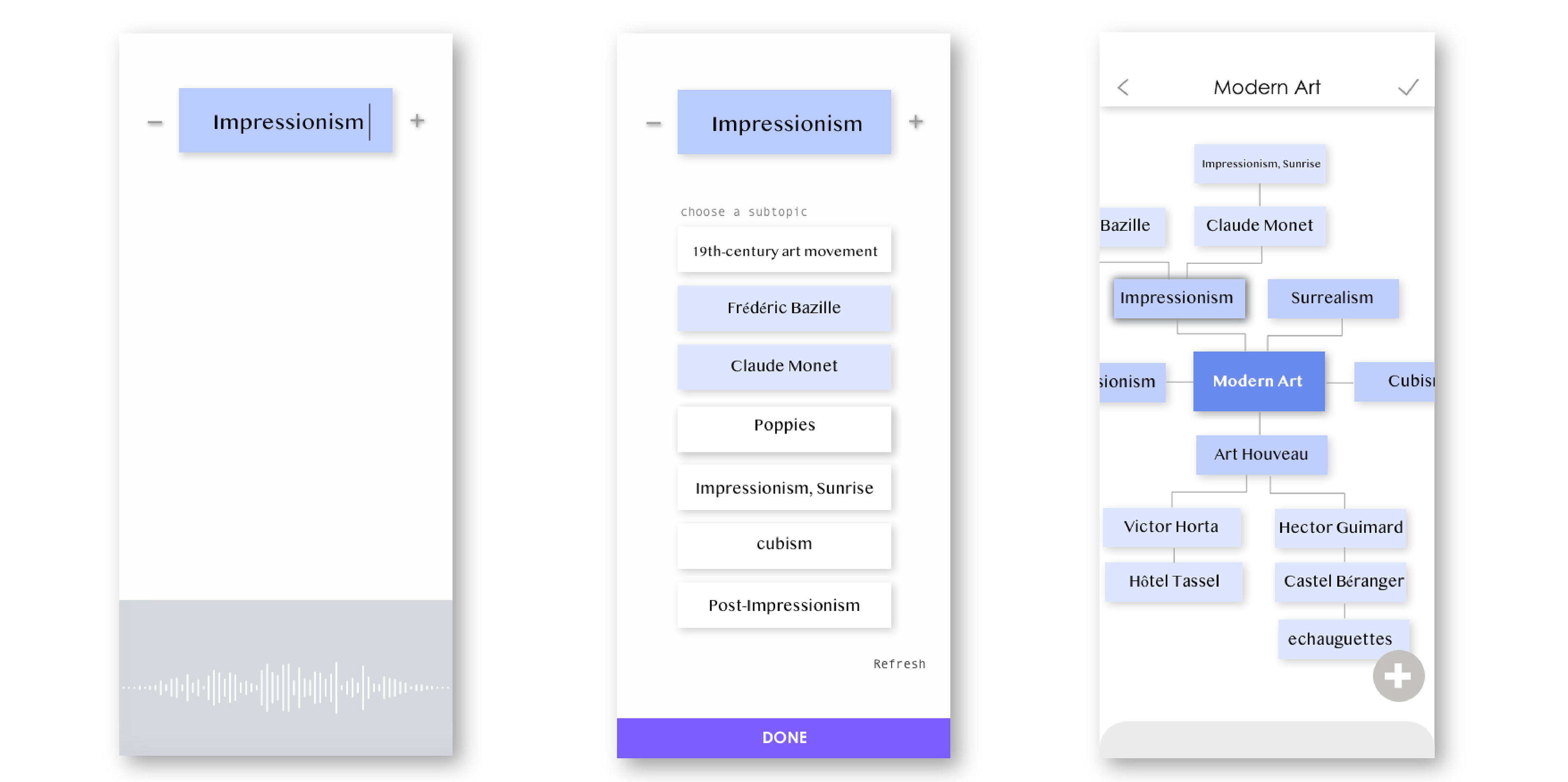 Read suggested articles and scholars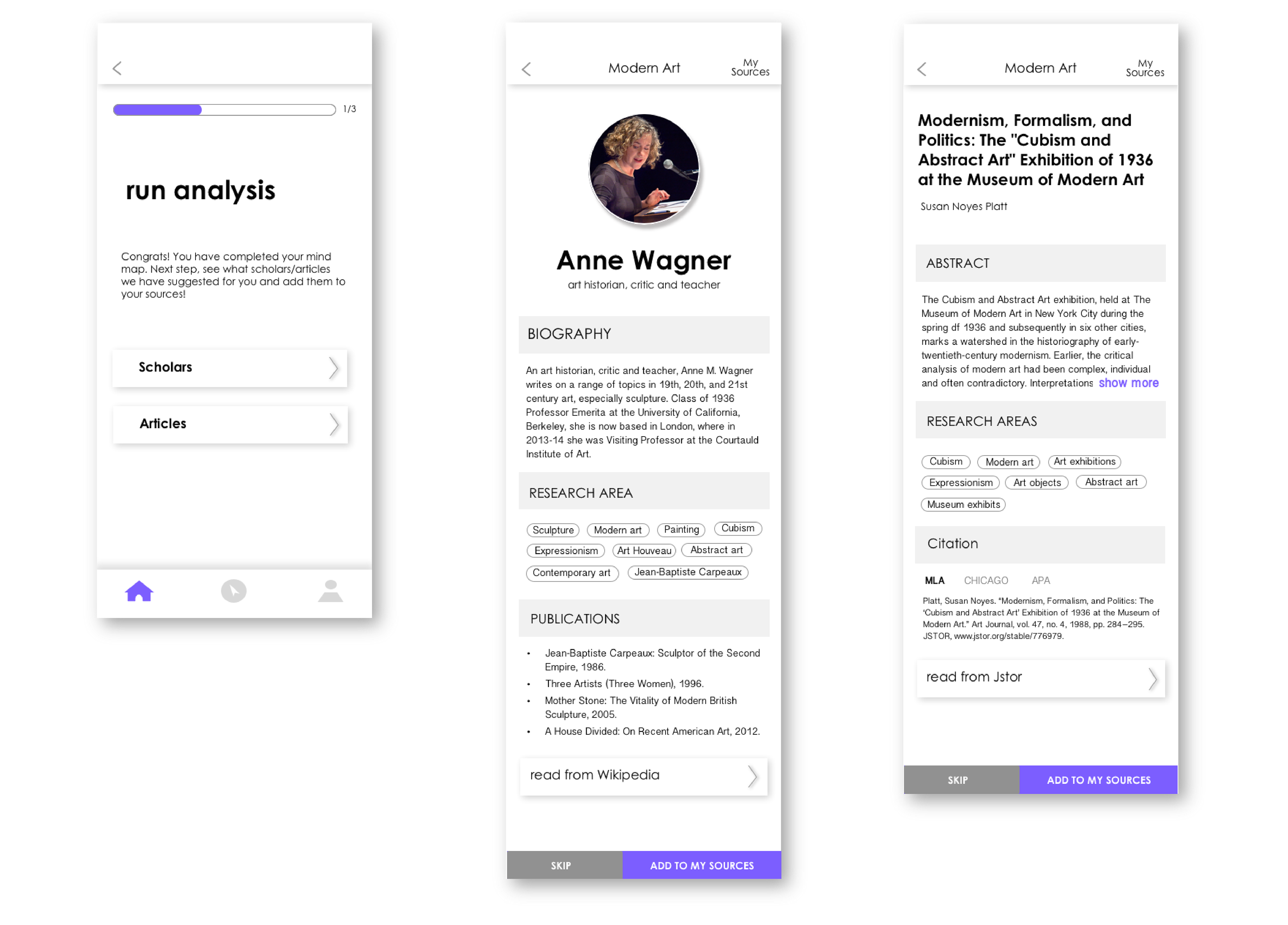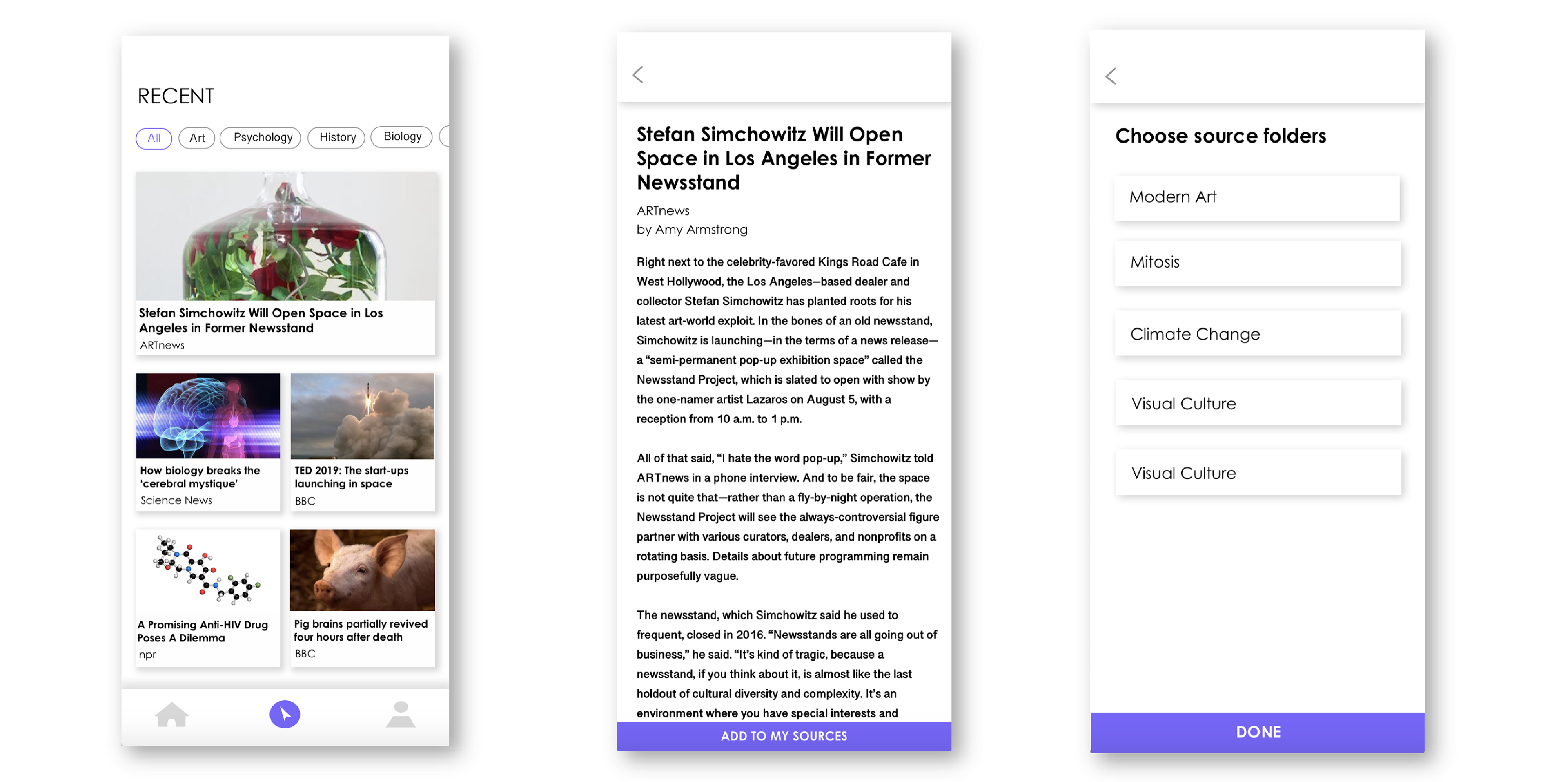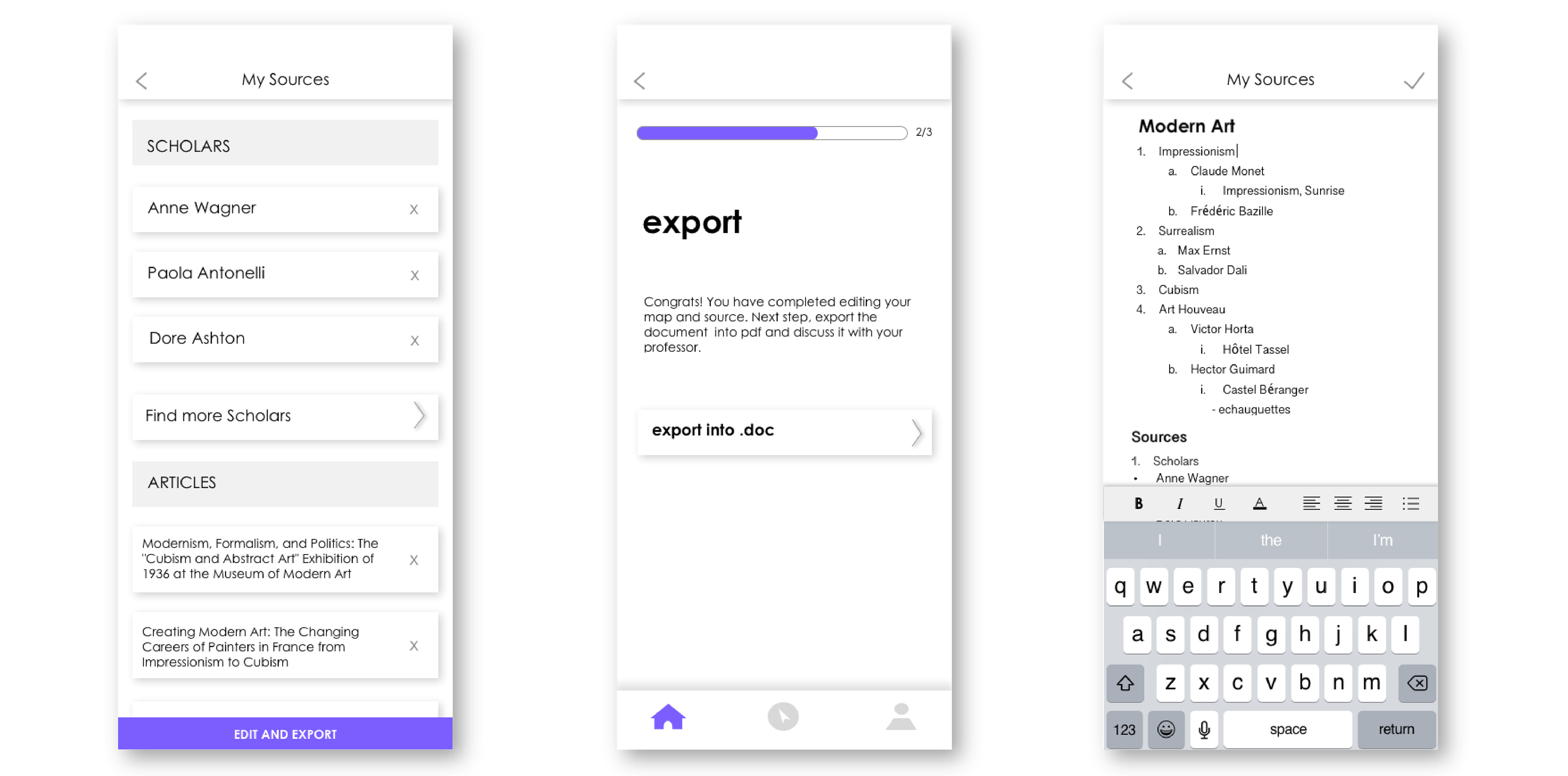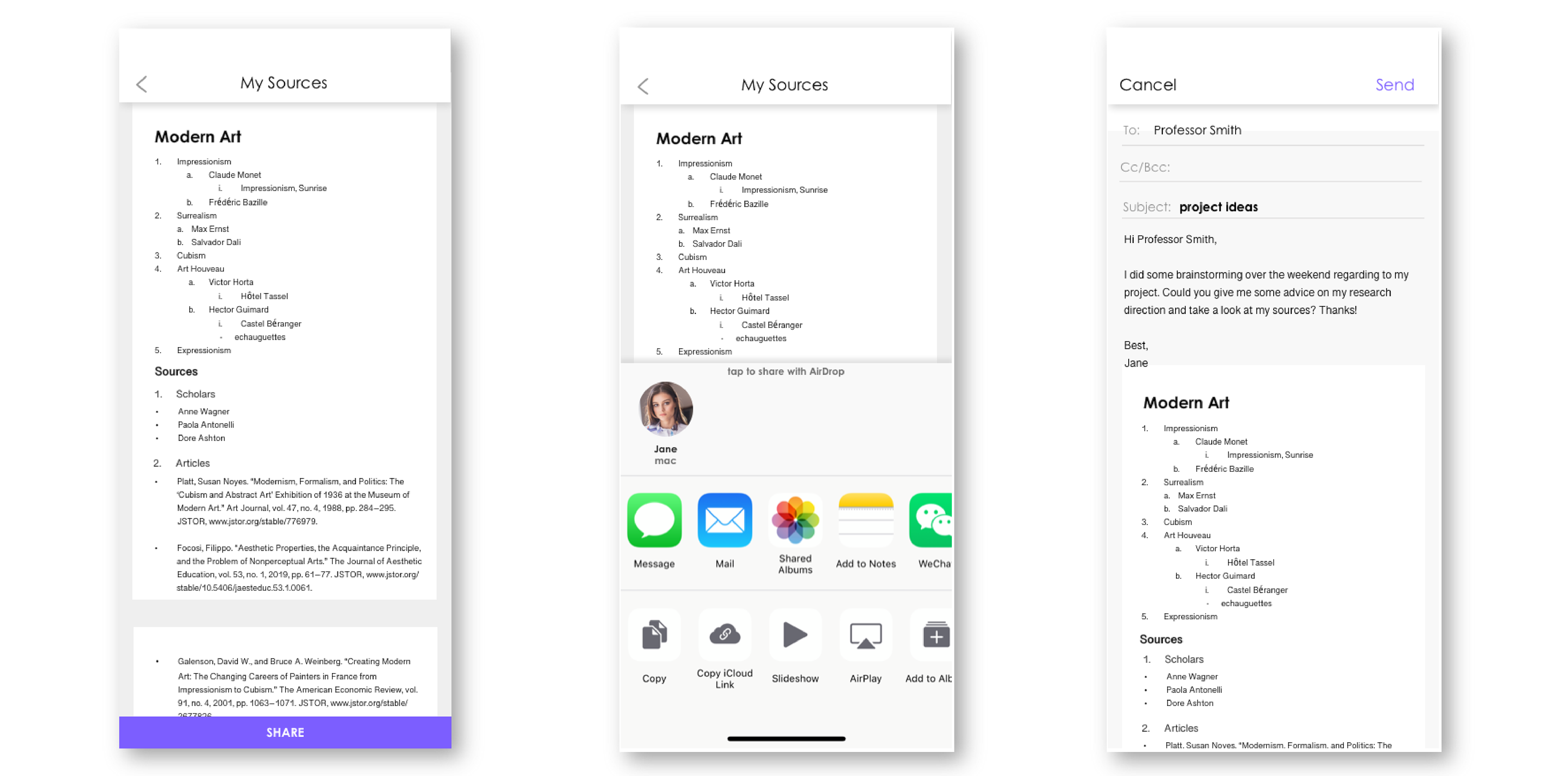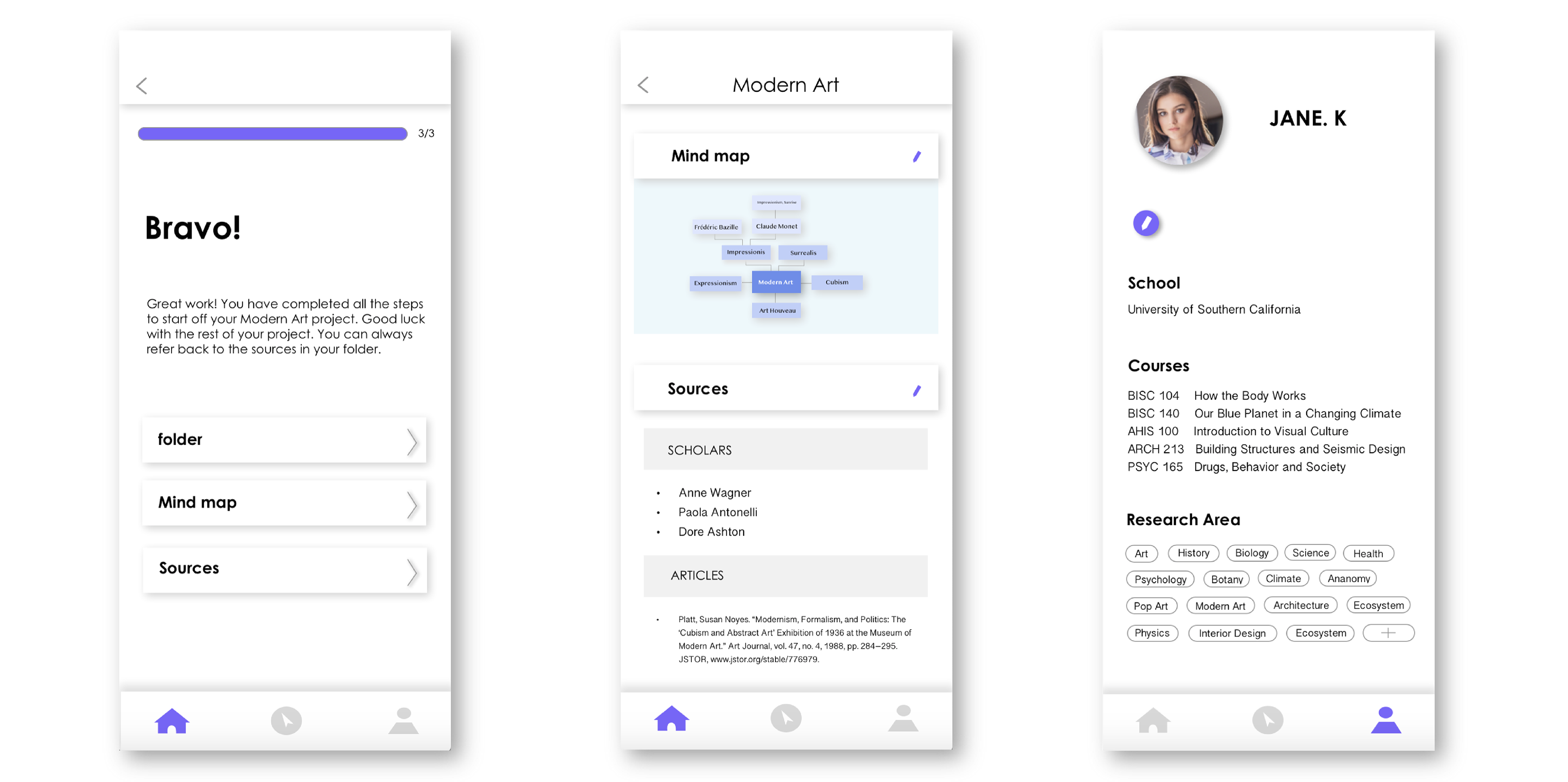 Academic life is stressful in college. There are many times that my peers and I have been burdened by countless papers or endless exams. Anxiety always rises when deadline approaches and school works hit us hard. In this project, I hope to develop an app that helps students alleviate academic pressure and excel in school.
I started my user research with a survey hoping to learn the students's experience with academic projects. About 90% of students said they have mild and moderate stress when doing school works. Among all of them, they most struggled with research paper (52%) and science report (21%). The biggest causes of stress come from lack of inspirations and high expectation for grades. From these results, I got a broad overview of the problems students are facing. For the next step, I hope to learn more specifically about their habits and working process when doing school projects and papers.  
On a deck of cards, I wrote down steps of writing a research paper so students can arrange them in the order of their habitual procedure. Then, I asked about their pain points in each of step in a casual interview. The interviewees are all college students but in different grades and majors. I collected their pain points (listed below), hoping to design a digital product that can help them to tackle these problems.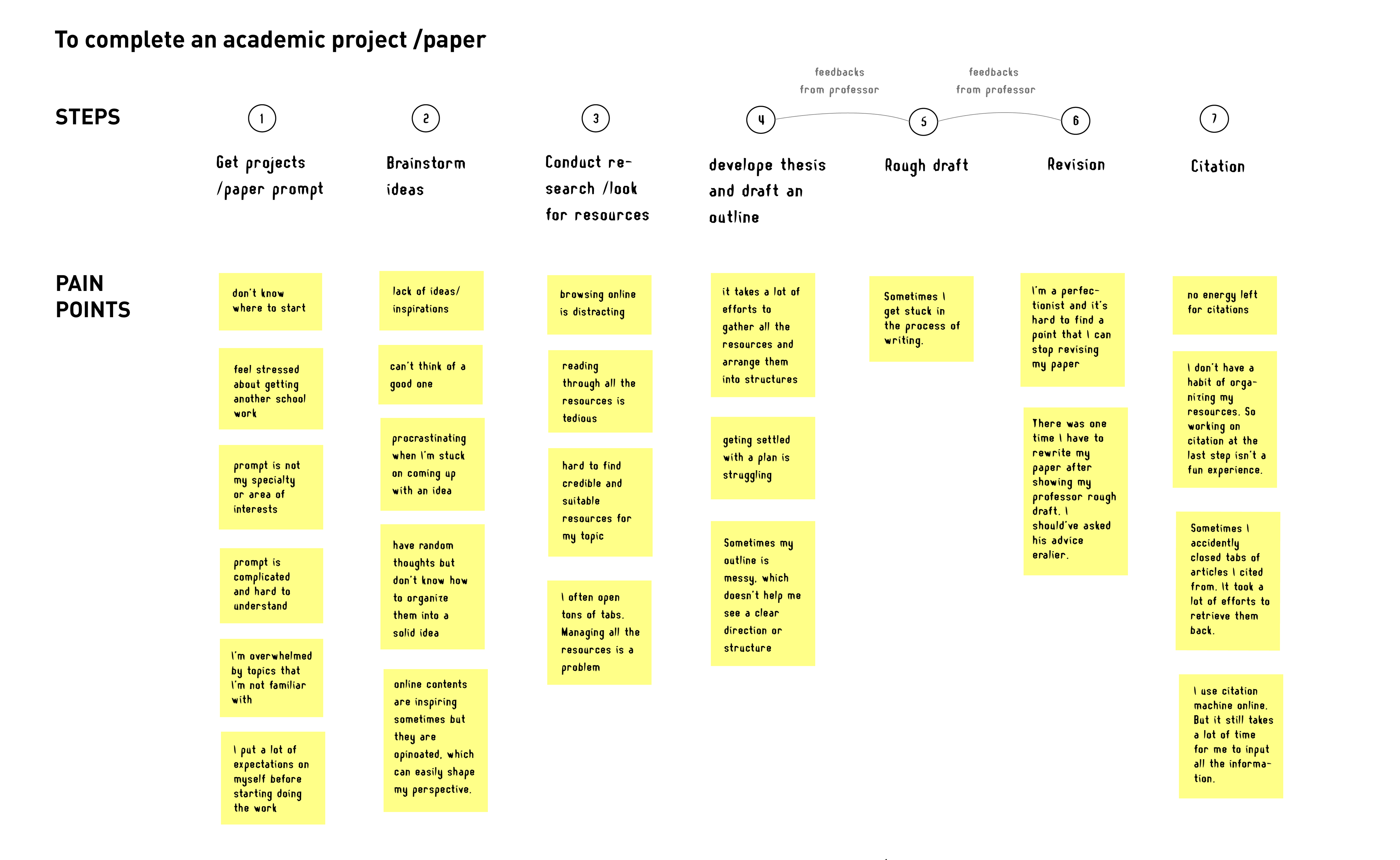 After analyzing these pain points, I summarized them into three major problems:
- Students struggle with constructing an executable and solid idea. They

lack of inspirations

when getting prompts that they have minimal knowledge of. 
- The process of finding resources is tedious. Students always

get distracted by irrelevant information online

.
- Students

don't like organizing

.

Manage all the thoughts and resources becomes an issue.  
The target audiences are students, especially for those who
 are not interested or motivated in project topic, but still wants do well and have good grades.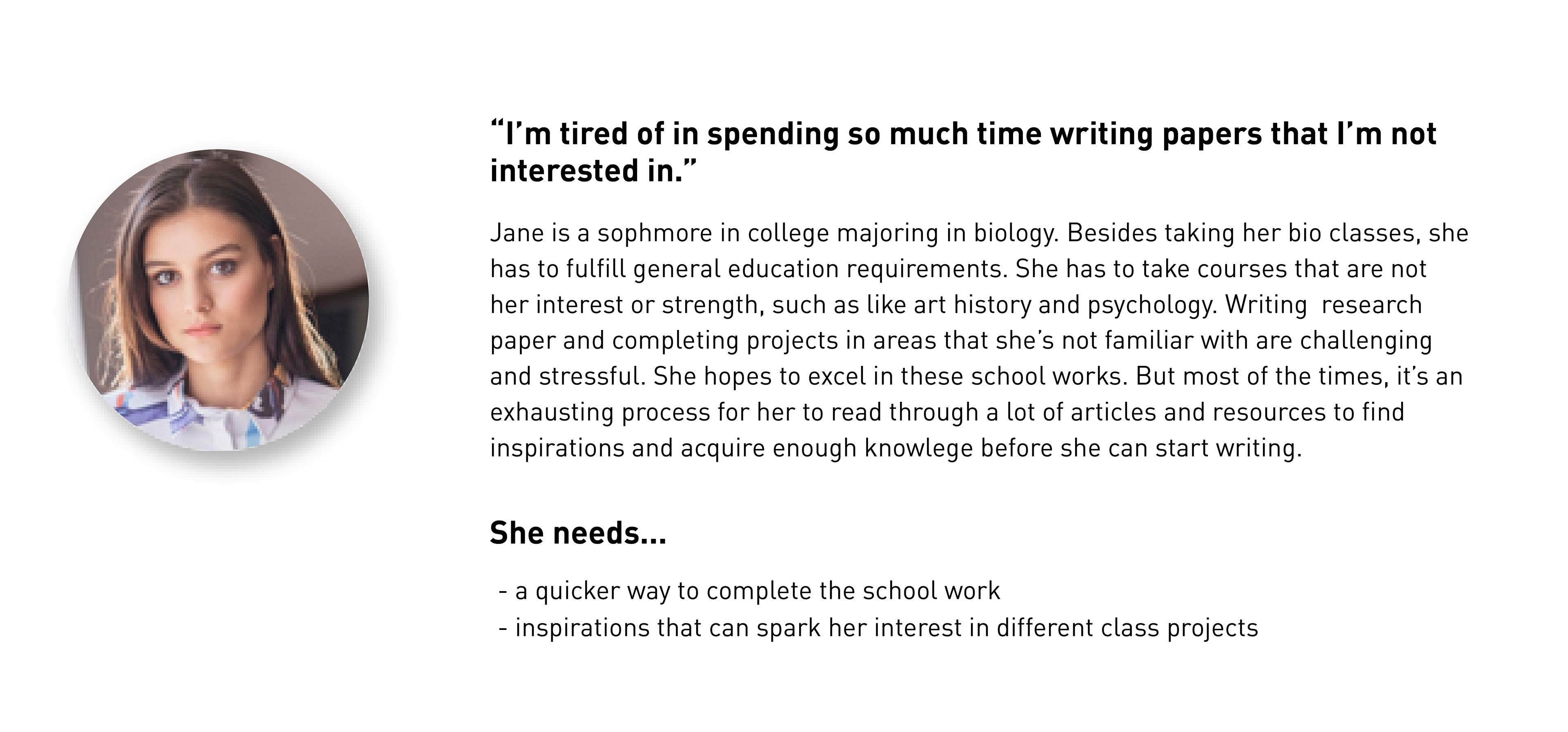 As Plato said, "A good beginning is half the work done".

My goal is to design a digital app that can help students quickly start off their school works. It should spark inspirations and suggest academic resources for students.

 

So this app is also a big database the pull resources from digital libraries like Jstor, Google Scholar and many other websites. 
Hopefully after using the app, students can avoid procrastination and get more interested into the projects.
I chose mobile platform because of its portability and touchable interface. I hope students can use it anytime and anywhere in an easy and casual way.
​​​​​​​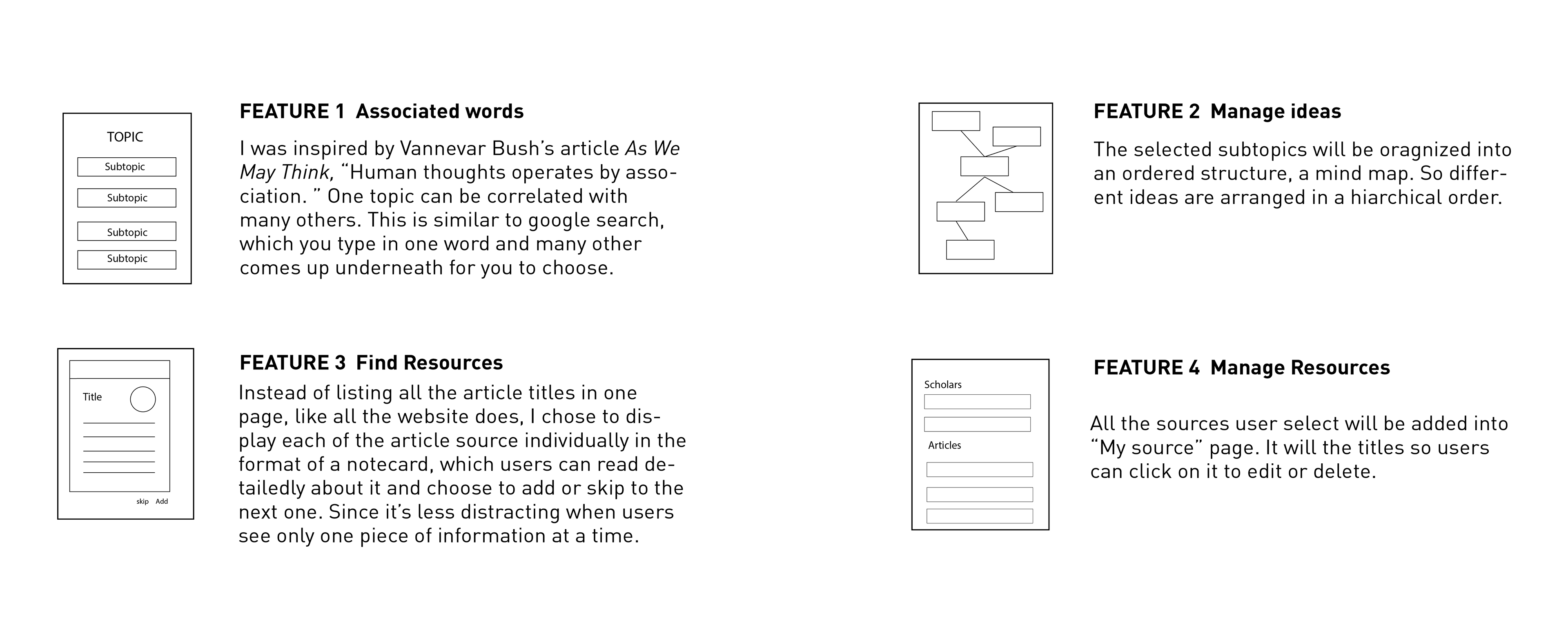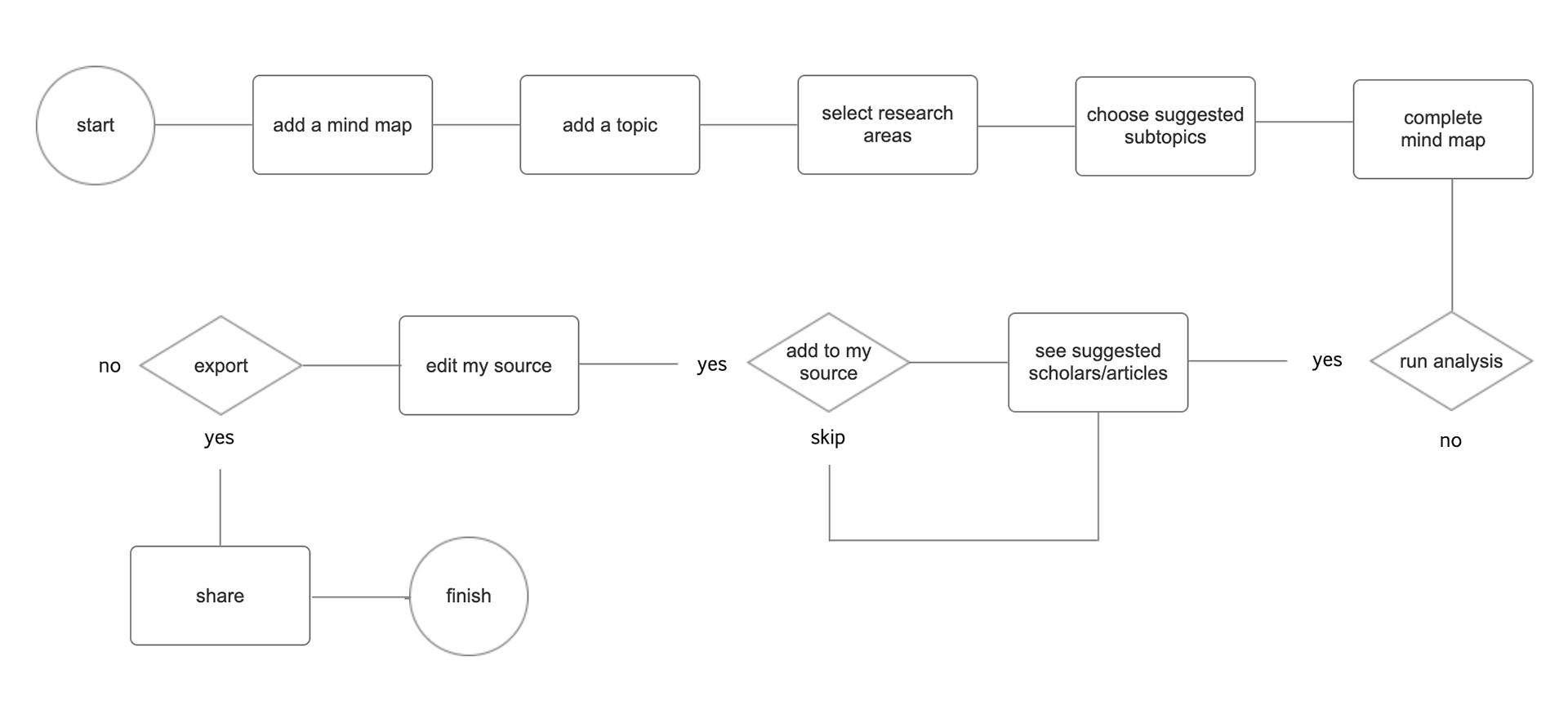 High-Fidelity Prototype & Motion Design